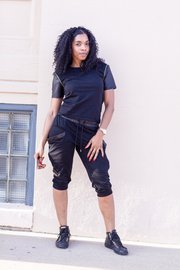 Name: Erinn Stacie
Age: 27
Hometown: Kansas City, Mo.
Time in Lawrence: Just visiting
Occupation: I'm a recording artist and I sing lead for a (dance party cover) band called The Rent.
Dream job: I love the legal field. I would probably be an [awesome] lawyer.
What were you doing when scouted? Setting up on stage to perform for The (Kansas) Relays event on Mass. Street.
Describe your style: My style is diverse, eclectic, classy and sexy: it is whatever I feel that day. I get inspired by everything — I'm an artist.
Fashion trends you love: I'm a trendsetter. I feel like if it's a trend, I don't want to follow it. Some people try to put me in a certain type of attire like a leotard. I'm like, "this is music! I'm not doing ballet right now!" When I dress myself, it's another part of my artistry: it's an expression. Whatever I feel is what I love.
Fashion trends you hate: I don't hate trends because certain people wear certain things well. Something that might not look good on me might look good on another person.

Fashion influences: I was raised by very fashionable women! I always wanted to be like my mom and aunties. They were always so classy. They started that madness: I was in three-piece suits when I was 13.
What would you like to see more or less of in Lawrence? More events that bring people out to socialize and to see bands like The Rent. I just saw a little kid on the sidewalk showing his grandfather how to do the Dougie! Less of? Nothing comes to mind.
Whom do people say you look like? Kelly Rowland
What type of music do you like? Our band sings everything from country to pop and rap so my taste is diverse. I like it all from Journey to Drake.
Tell us a secret: I'm not afraid to humble myself when it comes to making decisions that affect my family.