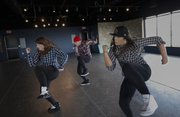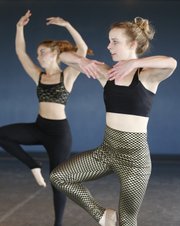 To spend almost the entirety of one's life in the dance studio and then forced to give up the creative outlet upon high school graduation is a reality many dancers face.
"Typically what happens is, when you graduate from high school, you're either going to have to teach dance, or go be a professional dancer," says Carly Malsom, assistant director of Point B and performer with AIM Dance Company. "Or it just ends. And that kind of sucks when you've been dancing for so long."
Join the dance company
Attention dancers: Auditions for the fall dance company concert is May 8. First, the choreographers will see how each dancer moves in mandatory class from 5:30 to 8:30, and then (three at a time) dancers will show a hip-hop, jazz and contemporary dance combo learned in class for the official audition.
Point B welcomes the community into their studio with open arms, seasoned dancers or just intrigued dance enthusiasts. Perhaps their upcoming show is a proper introduction to the studio.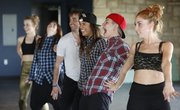 AIM Dance Company will present its annual spring Point B Dance Carnival at Lawrence Arts Center Friday and Saturday, both shows starting at 7 p.m. Tickets are $10.
In contrast with their contemporary concert dance show held every fall, the carnival will feature fresh, edgy, California-based choreography that will reach an entirely different audience.
"It's like pop music versus classical music," says Point B director Cathy Patterson, noting that the carnival will feature songs by Jay-Z, Britney Spears, Beyonce, M.I.A. and many others.
The 23 dancers in the audition-based company, ranging from 17 years old to 33, have been practicing 12 to 20 hours since the end of January under the direction of Patterson, Malsom, Deena Schaumburg, Tiffany Adams and Hannah Atwell. Their first song is a steam punk act, and the dancers will wear self-assembled futuristic Victorian-esque doll costumes.
The carnival will be 90 minutes of nonstop, high-energy entertainment, with jazz and hip-hop moves you'd see in music videos, Patterson says. Because of certain explicit lyrics in certain songs, this show is geared toward a teenager and older crowd.
Patterson opened Point B, 3300 Bob Billings Parkway, in 2008 as an open dance studio for adults (16 and up) who want to continue their training to their desired level of commitment. In addition to the AIM Dance Company, Point B provides beginning classes in hip-hop, lyrical and jazz dance for anyone in the community who would like to get familiar with this art form.
"Point B is a great place where people can just continue their dancing, and they can do it 10 hours a week, one hour a week or 30 hours a week," Malsom says.
Their mission is to provide a continuation of training for those who are looking to pursue a number of career goals, but may feel threatened by the idea of moving out to either coast right away. This keeps younger dancers from rushing into opportunities they may not be ready for.
"We train them so they can be a professional dancer, whether it's Broadway, New York, or music videos in L.A. or a contemporary company in Chicago," Malsom says. "We give them all the tools, so that if that's what they want to do, they can do it. Otherwise you have to go to a coast. And when you're 18 going out to L.A., you get lost in many different things."
Malsom and Patterson also feel strongly about introducing their "compromise" mission to anxious parents who aren't comfortable with their children choosing dance instead of a college degree.
"We're hoping to create this compromise where they can get a degree from KU in advertising or something to fall back on after dance is over, but they can still train here," Patterson says. "So when they do go to the coasts, they're more mature, they make better decisions I feel like because they're older, and they have a degree under their belt."
More than just a place to train, Point B has formed a community of those who love to dance without judgement. It's hard to get people in the door because they think dance studios are very competitive, Patterson says. Thanks to "Dance Moms" and other studios, beginners are hesitant to dip their toes in, but after taking their first class, they've become regular students.
"They talk about when they come here they feel safe," Patterson says. "That they can release and just relax. A lot of them have heavy loads in school or if they are moms they have heavy loads with their family. Then they come here and it's like a safe haven or an escape. I hear that a lot."
"It's kind of saved a lot of us," Malsom says. "It sounds really cheesy and like a bad commercial but it's true. It's very therapeutic. These are my friends and I spend I don't know how many hours with all of these people."