Whether it's Free State Brewery in Lawrence, Tallgrass in Manhattan, Boulevard in Kansas City, or one of the smaller brewing operations popping up in the area, craft and microbreweries have cast an intoxicating spell over the Midwest. And for good reason. As the Huffington Post wrote in a headline earlier this year, "The Midwest officially has some of the best beer in the world."
If you play your cards right, you could probably hit a beer festival of some kind just about every weekend for the next several months. But in the spirit of quality (which is, after all, what put the aforementioned suds on the map) let's take a look at a few of the most promising beer events.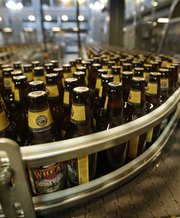 Announced just this year is the first ever "Boulevardia" festival, which takes place from June 13 through 15 in the West Bottoms, a neighborhood that rarely gets the festival treatment (unless you count haunted houses).
In addition to Boulevard beer itself, Boulevardia will feature offerings from several other breweries, as well as food trucks, crafts, activities and a lineup of bands including Capital Cities, The Freddy Jones Band, MarchFourth Marching Band and about a dozen standout local acts.
Weekend admission tickets have already sold out, but single-day admission tickets are for sale at boulevardia.com for $10 a day.
The previous Saturday, June 7, is the third annual Westport Beer Festival, which takes place from 5 p.m. to 9 p.m. in front of McCoy's Public House, 4057 Pennsylvania Ave. This is a fairly low-frills affair where serious beer drinkers can sample from 80 different offerings from 35 different breweries, many of whom will have brewmasters or reps on hand.
A $30 advance ticket ($35 at the gate) includes a tasting glass and unlimited pours. The festival is a benefit for AIDS Walk Kansas City. For tickets and a list of brewers, visit beerkc.com.
If you want to burn off some calories and load up on area brewing history, check out the Tour de Brew KC, a cycling event that winds past several of the city's current and former breweries, on May 18.
The Lager tour (15 miles, departing at 10 a.m.) will cruise through the East Bottoms to the River Market, through the West Bottoms, Crossroads and downtown, passing by breweries and icehouses as well as the mansions of former beer magnates. The IPA Tour (33 miles, departing at 9 a.m.) and the Dunkel (63 miles, 7 a.m.) explore locations farther south. All tours start and finish at Knuckleheads Saloon, 2715 Rochester in the East Bottoms, and conclude with a lunch and beverages.
Registration costs $50 and can be completed at tdb.bikewalkkc.org. If you register before May 1, you'll receive a free T-shirt. Online registration ends May 15.
Brookside Art Annual
Next weekend is one of the city's biggest outdoor art events, the Brookside Art Annual, which takes place May 2, 3 and 4 at 63rd and Brookside between Main Street and Wornall.
Now in its 29th year, the Art Annual features artists from all over the country as well as food booths and children's activities.
The festival will be held rain or shine, and admission is free. The event runs from 5 p.m. to 9 p.m. Friday, 10 a.m. to 9 p.m. Saturday and 11 a.m. to 5 p.m. Sunday. For a festival map and a complete list of artists, visit brooksidekc.org/bba/art-annual.
Chelsea Handler
On Wednesday, spend the evening with comedian, author and talk show host Chelsea Handler at Starlight Theatre as she delivers a stand-up set in support of her fifth book, "Uganda Be Kidding Me." Tickets to see Chelsea run no less than $50 at kcstarlight.com, and her set begins at 8 p.m.
Personally, I'm much more interested in seeing singer/songwriter Angel Olsen on Monday night at the Riot Room, 4048 Broadway, for the mere price of $10. Olsen has previously toured as part of Bonnie "Prince" Billy's and the Cairo Gang, and her newest release, "Burn Your Fire For No Witness," pairs her emotionally resonant vocals with powerful, captivating melodies.
All in all it's not a bad week to visit the Riot Room, which will also be hosting The Black Lips on Wednesday and Holly Golightly and the Broke-Offs on Friday. For tickets and showtimes, visit theriotroom.com.
Fans of the bouncy finger-style guitar playing and understated vocals of the late Bert Jansch should check out guitarist Ryley Walker at the Czar Bar on Tuesday. Tickets are $8 for this 18-and-over show, which starts at 7:30 p.m.