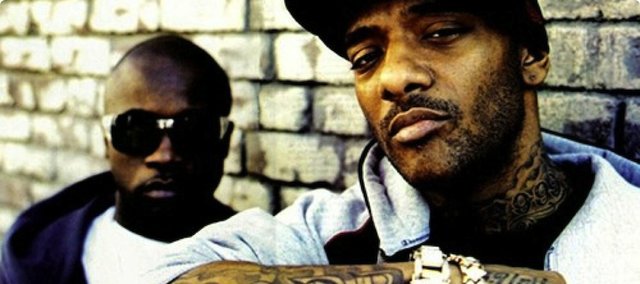 Today in Lawrence
is an early-morning digest of essential and not-so-essential info to start your day in Lawrence and Douglas County.
Click here
for past installments.
Nervous display
From 4 to 5:30 p.m. at The Commons in Spooner Hall, artist David Rokeby will install a portion of "Very Nervous System" (1986-1990) as part of his residency at Kansas University. Rokeby, an installation artist based in Toronto, Canada, focuses on interactive pieces that directly engage the human body or involve artificial perception systems. This one will bend your mind. Check it out for free.
Mammoth display
From 5:30 to 7:30, local independent publisher Mammoth Publications will present a mess of Lawrence authors in a free reading at the Jayhawk Ink lounge, Kansas Union level 2. Readers will include Xanath Caraza, Tom Weso, Denise Low-Weso, Oliver Hall and Julie Unruh.
Mobb scene
Finally, local hip-hop heads and music fans in general will head to The Granada at 9 p.m. (doors at 8) to catch Mobb Deep, one of the seminal acts of East Coast rap. Since 1992, Havoc and Prodigy have sold more than 3 million records and are still doing it right. Tickets: $22 at the door.
Yesterday's most-read
Other April 29 events
Red Dog's Dog Days workout, 6 a.m., Allen Fieldhouse, 1651 Naismith Drive.
League of Women Voters: Voter Registration, 11 a.m.-12:25 p.m., Eudora High School lunch room, 2203 Church St.
Michael W. Carroll: "Intellectual Property and Propriety in Scholarly Communication," 3:30-5 p.m., Alderson Auditorium, Kansas Union, 1301 Jayhawk Blvd.
Big Brothers Big Sisters of Douglas County volunteer information, 5:15 p.m., 2518 Ridge Court.
Public meeting on Lawrence-Douglas County Planning Department Comprehensive Plan, 6-8 p.m., City Commission Room, Lawrence City Hall, 6 E. Sixth St.
Pop-Up Library and Storytime, book checkout 6-8:30 p.m., storytime 7 p.m.; South Park Gazebo, 12th and Massachusetts.
Lonnie Ray's open jam session, 6-10 p.m., Slow Ride Roadhouse, 1350 N. Third St., no cover.
Free English as a Second Language class, 7-8 p.m., Plymouth Congregational Church, 925 Vermont St.
Affordable community Spanish class, 7-8 p.m., Plymouth Congregational Church, 925 Vermont St.
Joy of Java, 7-8:30 p.m., Carnegie Buiding, 200 W. Ninth St.
KU School of Music presents: Helianthus Contemporary Ensemble, 7:30 p.m., Swarthout Recital Hall, Murphy Hall, 1530 Naismith Drive.
Baker University String Chamber Music Concert, 7:30 p.m., McKibbin Recital Hall, Owens Music Building, Baker University Campus, 408 Eighth St, Baldwin City.
Gamer Night, 8 p.m., Burger Stand at the Casbah, 803 Massachusetts St., free.
Free swing dancing lessons and dance, 8-11 p.m., Kansas Room in the Kansas Union, 1301 Jayhawk Blvd.