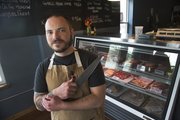 In a land where "processed meat" is synonymous with yellow plastic-clad bologna in a giant supermarket, the version at Hank Charcuterie may surprise.
Lamb sausage, chorizo, duck liver pate, ham hock rillette and hand-cut bacon fill Hank's meat counter. Each is processed by hand within eyeshot of the cash register, from butchering a whole animal to packaging the products made from it — all of it.
Former Pachamamas sous chef Vaughn Good opened Hank Charcuterie just over a week ago at 1900 Massachusetts St.
Hank (that's sausage-speak for a coil of casings) sells a few cuts of meat, such as lamb steaks, in addition to its prepared items, but the charcuterie products make it different from a traditional butcher shop, Good said. He knows of just one other similar business in the region, the foodie-approved Local Pig Charcuterie in Kansas City, Mo.'s, East Bottoms.
At Hank, farmhouse-style preserved meats get gourmet.
These products may show up in nibble-sized portions at edgy restaurants, but they aren't sold in normal stores.
For one, products come from grass-fed, antibiotic-free Kansas-raised animals, which Good buys directly from farmers and receives whole after slaughtering.
He also applies a chef's training — and flavoring.
A Lawrence native, Good has worked in restaurants here since high school. He spent two years cooking at Pachamamas before heading to culinary school in New York City. After graduating, he returned to Pachamamas and spent three years as sous chef.
Good got hooked on charcuterie at culinary school, where he went in early to finish assignments so he could stay late working with an instructor who specialized in charcuterie, he said. He loves the process, the many steps it takes to transform often unpopular ingredients such as liver into a new product.
"Using charcuterie, we can turn it into something that people want to eat," Good said.
One of the best sellers so far has been Hank's rich and savory duck or chicken liver pate, sold in small mason jars for $5.
"We've been selling it like crazy," Good said. "I guess because they don't see it anywhere else."
There's also rillettes, salted cooked meats prepared similarly to duck confit, and souse (translation: head cheese, meat from a pig's head pickled, set in a terrine and usually served sliced). Hank also sells pickled local vegetables and, for a dine-in option, creates a daily sandwich special or two using ingredients from the meat case.
For now, there are three guys creating Hank's products. Sous-chef Jay Tovar-Ballagh, formerly Pachamamas pastry chef, and prep cook Bill Heckt, who also is an emergency room nurse at Lawrence Memorial Hospital, join Good.
Good hopes to add a few more employees and eventually put his and Tovar-Ballagh's fine dining experience to work playing host to special coursed dinners.
Besides charcuterie, Good is counting on another old-fashioned tenet: the concept of a neighborhood market.
The 19th and Massachusetts area is becoming somewhat of a destination, with Alchemy Coffee and Bake House across the street and 1900 Barker Bakery and Cafe planning to open later this year, Good said.
"I like the spot because it's sandwiched between two neighborhoods," Good said. "I wanted to be that kind of neighborhood establishment where people could just walk up, or ride their bikes."
Good said Lawrence is ready for his concept.
"Lawrence is really supportive of local," he said. "I think it was time for someone to do local meat."