Wednesday, August 6, 2014
Photo Gallery
Next-generation Lawrence food icons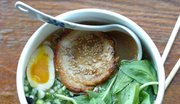 Every icon has to start somewhere, right? Rookie food players, this list is for you.
Ghosts of food wonders past
Epitaphs to some of the iconic dishes Lawrence misses most.
• Dump truck sundae at Molly McGee's: Gooey brownie, ice cream, whipped cream and toffee chunks — enough to fill the back of a big yellow Tonka truck. Why did you have to drive away?
• Lobster fettuccine from Fifi's: People "went crazy" over you back in the day, said Basil Leaf Cafe owner Brad "Walt" Walters, who for a while served a dish inspired by you. Now, people can only reminisce about you every time they bring up Fifi's.
• Douglas County Pie from Paradise Cafe: When they're not eating Smoke Burgers and Truffle Fries, Burger Stand founders Robert and Molly Krause are missing you.
• Sugar cookies from Joe's Bakery: You were never perfectly shaped (a telltale sign you were handmade) but always scrumptious. It's not just you we miss, it's also the heavenly aromas you and the doughnuts sent wafting across Ninth Street.
• Bobo Dip from Tin Pan Alley: We hear you were "crazy good." At least according to Rick Martin, Limestone Pizza Kitchen + Bar owner and former Free State chef.
• Peanut Butter Pie from Intorno: Even though you never really fit in at an Italian restaurant, no American restaurant had peanut butter pie as decadent as you. Glad to have known you in your short time here.
• Salmon and Asparagus Penne from Teller's: The folks at Merchants Pub and Plate said they now own the recipe for you. Maybe you will be reanimated as a zombie sometime at the new restaurant in your old home?
• Kobe Beef Taco from Esquina: What Burger Stand is to gourmet burgers, its former neighbor Esquina (in its first incarnation) was to gourmet tacos. We hardly knew ye.
— Sara Shepherd
In the years it takes food icons to build their fame, countless other menu items will be 86'ed for good.
But every icon has to start somewhere, right?
New restaurants — no matter how awesome — didn't stand a chance compared with the ones serving longtime favorites we named Top 10 Wonders of Lawrence Food, published last week in the Journal-World.
Rookie food, this week's list is for you. Here are six dishes, plus six honorable mentions, we think have potential to be Lawrence's next-generation food icons. Our list includes food from restaurants that opened in the past five years, chosen with help from local restaurateurs and our faithful foodie readers (obtained via a highly un-scientific survey).
Reader poll
Bahn Mizza at Limestone Pizza Kitchen + Bar

12%

13 votes

Buffalo Chicken Meatballs at Merchants Pub and Plate

19%

21 votes

Hakata Tonkotsu Shoyu Ramen at Ramen Bowls

6%

7 votes

Homemade marshmallows at The Roost

4%

5 votes

Smoked trout crostini at 715

13%

14 votes

Tacos from Taco Zone

20%

22 votes

Something not listed (let us know in the comments)

22%

24 votes
106 total votes.
Are these dishes too trendy to last? Will the restaurants serving them stick around? What better things are yet to come?
It's impossible to predict the future. Then again, it's also impossible to imagine a future where we don't think pork belly and buffalo chicken are delicious anymore.
Here's our list.
Smoked trout crostini at 715
715 Massachusetts St.
Lawrence loves 715 — and its smoked trout crostini.
The rustic-fresh appetizer features house-smoked rainbow trout, arugula and lemon-caper aioli atop crusty ovals of Wheatfield's baguette. Featured on 715's lunch, dinner and happy hour menus, this dish is good anytime, any day.
814 Massachusetts St.
When the bright, zippy flavors of a Vietnamese bahn mi sandwich get together with Neapolitan style pizza in this fledgling downtown restaurant's 20,000-pound oven named Maggie ... ta-dah! It's the Bahn Mizza.
Readers suggested several Limestone dishes for this story, but the Bahn Mizza cult is strong and powerful, restaurant owner Rick Martin said.
"I haven't seen a special take off like this one perhaps since I designed the Ciabatta French Dip Sandwich at Free State," said Martin, who spent 15 years as executive chef at the brewery.
For now, this pie — Vietnamese barbecue pork, sweet chile sauce, Gruyere, fresh veggies and spicy Asian mustard atop a thin rustic crust — is only available on Thursdays.
Replay Lounge patio, 946 Massachusetts St.
Al pastor, chicken tinga, calabacitas, cochinita pibil — suddenly the Replay patio is so ... global.
The popularity of these Mexican street tacos, served 'til 2 a.m. on Replay's back patio, has snowballed since Taco Zone started up in March. The selection changes nightly and features some authentic Mexican staples, some new interpretations and some veggie options.
Maybe a food stand on the Replay patio won't stick around another 20 years. But wouldn't it be cool if it did?
746 Massachusetts St.
Diners at Merchants report the farm-to-table-focused restaurant has a knack for making even Brussels sprouts and kale taste good. This fan favorite from the snacks menu, however, puts the tried-and-true college-town combination of chicken and hot sauce in a new package: meatballs.
"Dishes like the Buffalo Chicken Meatballs ... are a great reflection of what we love to do — filter classics through our local lens," Merchants owners said.
Instead of blue cheese dressing, these come with Boursin sauce. Fancy.
Hakata Tonkotsu Shoyu Ramen at Ramen Bowls
125 E. 10th St.
This could really be "any ramen with pork belly from Ramen Bowls," but we had to pick one. This dish stars a luscious, crispy-edged circle of grilled pork belly, floating in broth with a soy-braised runny egg, noodles and fresh veggies.
"Good as much of the best ramen in New York City in my opinion, that one dish," said Lawrence foodie Scott Tichenor, one of the locals who love it.
Also slurp-worthy: Hokkaido Tonkotsu Miso Ramen, a similar pork belly bowl with miso and more veggies, restaurant owners Tim and Shantel Grace said.
Homemade marshmallows at The Roost
920 Massachusetts St.
The Roost's bakery case is full of indulgent homemade treats. But no one else around makes their own, giant-sized version of this confection, guaranteed to bring out the kid in everyone.
Fluffy and palm-sized, these marshmallows are waaaay too big to drop in a brimming mug of cocoa or coffee, but you can always tear off pieces. In typical Roost fashion, they occasionally appear in fun flavors (recently spotted: orange-ginger).
---
Honorable mentions
Birria at Mexquisito: When Lawrence realizes free chips and melted-cheese-on-everything don't define good Mexican food, this slow-cooked, flavor-loaded specimen of authentic south-of-the-border cuisine might get more famous.
Ultimate Pies at Fat Freddy's Pizza and Wings: Toppings include tater tots, mozzarella sticks and hot dogs. For those wild nights when even cream cheese pizza won't cut it.
Gluten-free fried chicken at Oh Boy! Chicken: How something breaded and fried yet gluten-free can be as good as this is, we aren't sure.
Pho at Little Saigon: Hot noodles with a side of friendly.
Big 12-size Carnivore pizza at Legends: Eight-pound pizza or casserole with crust? Who cares!
Burger on a (bad) Bun at Hank Charcuterie: The newborn of Lawrence restaurants, Hank self-nominated this one. Presumably, the sub-par bun is a vessel to foil above-par meat.