Thursday, August 14, 2014
The music group Ensemble Ibérica will serve up traditional Spanish sounds — mixed with other musical influences from around the globe — to Lawrence audiences with its new show "Flamenco Mío" Friday night at the Lied Center Pavilion, 1600 Stewart Drive.
Presented in partnership with the Kansas University department of dance, the performance fuses the centuries-old flamenco with American jazz, Turkish music and contemporary fine art — a combination that Ensemble Ibérica artistic director Beau Bledsoe says has impressed music fans in both Spain and the Midwest.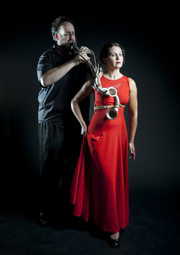 If you go
"Flamenco Mio," presented by Ensemble Iberica, will be held at 8 p.m. Friday at the Lied Center Pavilion, 1600 Stewart Drive. Tickets cost $15 in advance or $18 at the door. To purchase tickets, visit EnsembleIberica.org.
The show made its stateside debut last month to a sold-out crowd at Johnson County Community College's Carlsen Center.
"It did very well in Spain," Bledsoe said. "I didn't know if we were going to get run out of town or if people wouldn't like it, but it seems like they were ready for something new to be done with flamenco."
Bledsoe, a classically trained guitarist, said "Flamenco Mío" was first conceived around eight years ago when dancer Melinda Hedgecorth, the program's co-founder, relocated to Spain from Kansas City.
"She kept coming back into town and wanted to work with me," Bledsoe said. "But we were having trouble filling out the group with the traditional musicians that you need to do a traditional flamenco show."
It was then that Bledsoe and Hedgecorth tried something different. They added jazz saxophonist Mark Southerland to the mix, and continue to bring in new talent every year.
Vocalist Daniel Azcarate will perform in Friday night's incarnation. His interactions with Southerland provide some of the program's most "beautiful" moments, Bledsoe said.
"Flamenco Mío's" crowning glory is its two "enormous dance solos" that Bledsoe said clock in at about 20 minutes.
During the routines, dancer-choreographer Hedgecorth will sport a traditional bata de cola, a customary flamenco dress with a long train and several layers of ruffles. Hedgecorth uses the gathered fabric as a prop, "shaking the ruffles" to the music.
The results — an homage, as is the show itself, to Spain's musical traditions — are amazing, Bledsoe said.
"She hired the best dressmaker in Seville," he said. "All her costumes are made there."
Tickets for "Flamenco Mío" are $15 in advance, and $18 at the door. To purchase tickets, visit EnsembleIberica.org.