Wednesday, August 20, 2014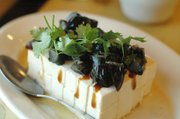 With its gelatinous dark-sepia colored white and crumbly black yolk, this Chinese treat looks like a 1,000-year-old hard-boiled egg. It doesn't taste THAT old — but it sure doesn't taste new.
Also called century eggs or millennium eggs, these preserved eggs get their pungent odor and briny flavor from being cured in a salty solution. (What exactly goes into the solution and how long eggs sit in it varies. The traditional process takes a few months and involves wood ash, quicklime and salt. Modern methods use other chemicals to achieve the same result in weeks. Google if you dare.)
In this appetizer, chopped egg is served atop cold tofu with a drizzle of soy glaze.
Where to get it: Panda and Plum Garden, 1500 W. Sixth St.
What you'll pay: $7.50
Try it with: Rice porridge (congee). If you don't like tofu, this is one of a few other menu items you can get with a preserved egg.
Also on the menu: The usual Chinese takeout and buffet fare, on the regular menu. The authentic menu — home to the thousand-year egg — includes pork trotters, mustard tubers soup, tripe, kung pao squid and hot pots in which you cook items at your own table, to name a few of the most exotic.
— Off The Beaten Plate highlights some of the more exotic, oddly named or inventively concocted dishes from local menus. Know of an offbeat item we should check out? Email reporter Sara Shepherd at sshepherd@ljworld.com. Follow her at Twitter.com/saramarieshep.