Wednesday, August 27, 2014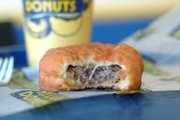 A sausage patty with melted cheese, not sandwiched between slices of English muffin but fried inside a doughnut instead. Kind of like a jelly doughnut's strange, savory cousin.
Where to get it: Daylight Donuts, 935 S. Iowa St.
What you'll pay: $1.79.
Try it with: Gravy. Daylight Donuts actually suggests this.
Also on the menu: The Sausage Roll (like the pie, but with a link instead of a patty), biscuits and gravy, breakfast burrito, breakfast biscuit sandwich and donuts — from basic glazed to generously sized long johns, bear claws and the like.
— Off The Beaten Plate highlights some of the more exotic, oddly named or inventively concocted dishes from local menus. Know of an offbeat item we should check out? Email reporter Sara Shepherd at sshepherd@ljworld.com. Follow her at Twitter.com/saramarieshep.