Wednesday, August 27, 2014
Bread-making is, truth be told, a little time consuming. It can also be tricky if you don't pay attention to what your hands are telling you.
On the other hand, the amazing smell (and taste) of freshly-baked bread makes almost any amount of effort worth it.
Apple Oatmeal Bread
3 cups apple juice
2 packets yeast
3 cups oat flour
1 teaspoon orange zest
1 teaspoon vanilla
1 teaspoon ground cinnamon
1 teaspoon salt
4-5 cups unbleached white wheat flour
Extra flour for sprinkling
Heat up the apple juice to "warm," about 105-110 F. Pour it into a large mixing bowl and sprinkle on the yeast. Set it aside to proof for a few minutes.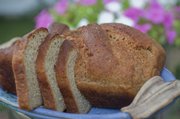 Once the juice/yeast mixture has foamed up, dump in the oat flour and stir well. Add the orange zest, vanilla, cinnamon and salt. Now start adding the white flour, one cup at a time. Stir well after each addition. Once your arm decides that further stirring just ain't gonna happen, dump out the dough on a floured surface and start kneading.
This is the only part of the recipe that calls for caution. The oat content of this bread means that the dough is going to develop the adhesive qualities of Mega Glue, and you'll have to keep throwing flour around to prevent it from sticking to the counter, your hands and passing family members. BUT adding too much flour will result in a beautiful, fragrant doorstop. When the dough is somewhat sticky but manageable, you've reached the right balance.
So now that you've been kneading and flouring and possibly snarling for about 10 minutes, it's time for a break. Grease a large bowl and put the dough in it, rolling it around so that the whole dough ball gets slicked up. Cover the bowl with a tea towel and let it sit for about 45 minutes or until the dough has doubled in bulk.
Turn out the dough onto your counter and knead it gently four or five times. Divvy it in half and press out each half into a 9-by-12 rectangle. Starting with the shorter edge, roll one rectangle up and place it seam side down in a greased 9-by-5 loaf pan. Repeat with the other rectangle. Using a super-sharp paring knife, make some decorative slashes in the top of each loaf. Cover the pans with that tea towel and let the dough rise for about half an hour.
Once the loaves have risen at least to the tops of the pans, stick them in the oven to bake at 350 F for 40-45 minutes. You'll know they're done when the tops are a deep brown and bottoms sound hollow when tapped. Brush the tops with melted butter and let the loaves cool on their sides on a wire rack.
This bread makes for great peanut butter and jelly sandwiches or French toast. Because of the low fat content, it doesn't keep very long, but it will freeze well for future use.
Enjoy!