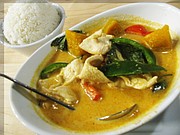 With Thanksgiving officially over and more holiday feasts on the way, pumpkin heyday is in full swing. For those who can't get enough of the festive vegetable, here's something a little out of the ordinary: pumpkin curry at Baan Thai.
Soft chunks of pumpkin float in a bowl of panang curry alongside meat (choose from chicken, pork or tofu; beef or shrimp can be substituted for $1) and bell peppers, served with a cup of steamed rice.

Grandma's pie it is not, but the sweet, mild dish is still a fitting meal for chilly winter days.
Where to get it: Baan Thai, 741 Massachusetts St. The Lawrence location (Baan Thai started in Leavenworth and has another location in Manhattan) launched its soft opening Nov. 14. Owner Aree Proctor hopes to hold a grand opening within the next few months.
What you'll pay: $13.95
Try it with: A complimentary cup of soup between 10:30 a.m. and 2 p.m. Baan Thai rotates between "soup of the day" selections like rice, noodle and egg drop varieties.
Also on the menu: An extensive offering of appetizers, salads, soups, noodle dishes, Thai entrees and, of course, curries. The Spicy Basil (ground meat stir-fried with bell peppers, bamboo, garlic, chili and basil), Crazy Noodle (Thai rice noodles stir-fried with green beans, onions, bell peppers, chili, bean sprouts basil and meat) and the Khao Soi (a coconut-based red curry soup) are among Baan Thai's most popular dishes, Proctor says.
— Off The Beaten Plate highlights some of the more exotic, oddly named or inventively concocted dishes from local menus. Know of an offbeat item we should check out? Email reporter Joanna Hlavacek at jhlavacek@ljworld.com. Follow her at Twitter.com/hlavacekjoanna.