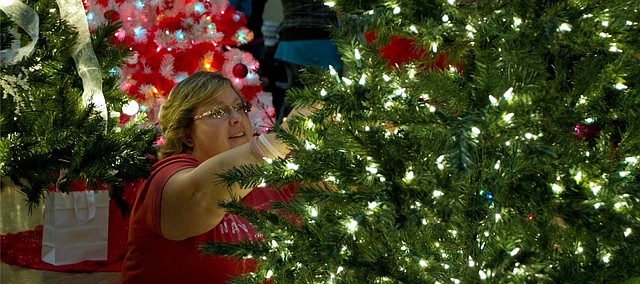 Today in Lawrence
is an early-morning digest of essential and not-so-essential info to start your day in Lawrence and Douglas County.
Click here
for past installments.
Feel the chill
The weather is back to more wintry digits, with a high today of 31 degrees under partly to mostly cloudy skies. The low overnight will be about 20 degrees with clear skies. The highs on Tuesday and Wednesday will go back up into the 40s and the sun will come back out.
Festive forestry
The holiday season truly kicks off with the Lawrence Festival of Trees at Liberty Hall. Nearly 60 trees and 25 wreaths decorated and donated by local individuals and groups are on display, and will be sold during the Auction Party on Tuesday. The Lawrence Festival of Trees is from 10 a.m. to 8:30 p.m. at Liberty Hall, 644 Massachusetts St.
Ninth Street ideas
Join the city of Lawrence to provide input related to a possible scope of work for the design team for the Ninth Street Corridor project. The vision of the project is to create an accessible neighborhood corridor that incorporates public art into the infrastructure. The Ninth Street Corridor Project meeting is at 7 p.m. at New York Elementary School, 936 New York St. The public is encouraged to attend. For more information, visit the city of Lawrence website.
Yesterday's most-read
More Dec. 1 events
Adornment Holiday Art Show and Sale, 1-5 p.m., Van Go, 715 New Jersey St.
Lecompton City Council meeting, 7 p.m., Lecompton City Hall, 327 Elmore St., Lecompton.
KU Jazz Ensemble I with Deborah Brown, vocalist, 7 p.m., Helzberg Hall, Kauffman Center, 1601 Broadway, Kansas City, Mo.
Baldwin City Council meeting, 7:30 p.m., City Hall, 803 S. Eighth St.