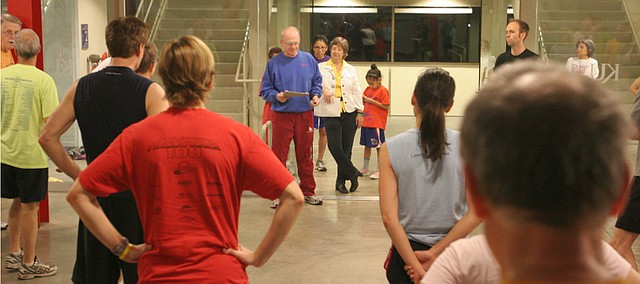 Tuesday, December 2, 2014
Today in Lawrence
is an early-morning digest of essential and not-so-essential info to start your day in Lawrence and Douglas County.
Click here
for past installments.
Warming trend
The bitter cold is letting up and will continue on the upward trend. There will be sunshine and some clouds today, with a high of 42 degrees. Tonight's low will be 25 degrees under partly cloudy skies. The temps will continue to rise as the week progresses.
In from the cold
Red Dog enthusiasts: Workouts have moved to their winter location. Red Dog's Dog Days workout starts at 6 a.m. sharp Tuesdays and Thursdays at Allen Fieldhouse (second floor, south side), 1651 Naismith Drive. Park in the lot by the baseball field on the south side of the building or in the lot across the street; enter through the handicap doors. There will be no 6 p.m. sessions until June, when workouts will return to South Park.
Sweet sounds
KU School of Music presents the KU University Band & Symphonic Band's winter concert. The show starts at 7:30 p.m. at the Lied Center, 1600 Stewart Drive. Tickets are $8 for adults and $6 for children, students and seniors.
Yesterday's most-read
More Dec. 2 events
Lawrence Festival of Trees, 10 a.m.-5 p.m., Liberty Hall, 644 Massachusetts St.
Adornment Holiday Art Show and Sale, 1-5 p.m., Van Go, 715 New Jersey St.
Festival of Wreaths and Trees display, 1-8 p.m., Lumberyard Arts Center, 718 High St., Baldwin City.
Lawrence Habitat for Humanity: Photography Exhibit: "Home," 5-6 p.m., Douglas County Bank, Sixth St. and Folks Road.
Big Brothers Big Sisters of Douglas County volunteer information, 5:15 p.m., 2518 Ridge Court.
Lonnie Ray's open jam session, 6-10 p.m., Slow Ride Roadhouse, 1350 N. Third St., no cover.
Lawrence City Commission meeting, 6:35 p.m., City Hall, 6 E. Sixth St.
Lawrence Festival of Trees Gala Auction Party, 7 p.m., Liberty Hall, 644 Massachusetts St.
Sexual Committee: Rape Culture, 7 p.m., Ecumenical Campus Ministries, 1204 Oread Ave.
Free English as a Second Language class, 7-8 p.m., Plymouth Congregational Church, 925 Vermont St.
Affordable community Spanish class, 7-8 p.m., Plymouth Congregational Church, 925 Vermont St.
Tuesday Concert Series: Kelly Werts and Greg Allen, 7:30 p.m., Lawrence Arts Center, 940 New Hampshire St.
East European Democracy & Russian Re-emergence, 7:30 p.m., Dole Institute, 2350 Petefish Drive.
Baker University Taylor Winkler Junior Piano Recital, 7:30 p.m., McKibbin Recital Hall, Owens Musical Arts Building, 408 Eighth St., Baldwin City.
Washburn University Jazz Concert, 7:30 p.m., White Concert Hall, SW 17th St., Topeka.
Gamer Night, 8 p.m., Burger Stand at the Casbah, 803 Massachusetts St., free.
Free swing dancing lessons and dance, 8-11 p.m., Kansas Room in the Kansas Union, 1301 Jayhawk Blvd.