Wednesday, December 3, 2014
Ready or not, the holiday season is upon us, and with it comes lots and lots of shopping.
I am always strive to look for the best deals each holiday season. Big box stores often slash prices this time of year, but when it comes to Christmas shopping, I've found some the best bang for my buck shopping downtown. When you buy a gift at a downtown retailer you are likely to find something more unique so your gift will stand out among the others, a factor that in itself is priceless.
Here are some tips I use to save money on unique holiday gifts.
Be creative and bundle
When shopping for any gift, don't limit yourself to the items you see in front of you. Rather, imagine what those items could be if paired with other reasonably priced purchases.
For instance, I recently saw some plastic sunflower-shaped coasters at Weaver's, 901 Massachusetts St. for $2.99 each. They have a curved design with grooves that collect condensation and prevent coaster cling. A set of coasters may seem like a small and impersonal gift, but when you pair it with a six-pack of Free State Beer it becomes creative and more personalized. And four coasters and a six-pack of beer will put you out less than $20.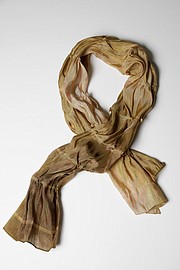 Never underestimate the basics
Gloves, scarfs, ties and KU apparel may seem like tired, old gift ideas, but these gifts never go out of style. And there is an abundance of each of these items sold downtown.
I get at least one pair of gloves each year for Christmas, but I feel like I can never have too many, especially if they are good-quality.
The Etc. Shop, 928 Massachusetts St., has genuine leather gloves for $28.95 and could be the perfect gift for that person who has everything.
Pick a price point and ask for advice
I have a large family, so inevitably there is always at least one person I have no idea what to get. I learned long ago that sales clerks can be my greatest asset. The key is to pick a price point and be honest with the sales associate.
Last year I didn't know what to get my 8-year-old stepbrother who likes dinosaurs. I asked one of the employees at The Toy Store, 936 Massachusetts St., who recommended a fossil-digging kit that was within my $25 budget. I was in and out in less than 15 minutes.
Search the clearance items
And last but not least, don't forget to scan the clearance items. You make think that all clearance items are out of season and not appropriate holiday gifts, but that's not true.
During a recent trip to Adorned Boutique, 5 E. Seventh St., I found a silk scarf for $16 and a chunky bracelet to match for $7.50, all in the clearance section. You can pair the two together for a fashionable gift under $25.
— Arley Hoskin is a writer, mom and avid bargain shopper.