Wednesday, December 3, 2014
I have a thing for Advent calendars. I love the idea of counting down to anything, really, but — as I'm Clark Griswold-y about Christmas — it tends to be worse around the holidays.
If there's a party or winter activity going on in town, it's on our calendar, probably with "hot chocolate" or "read Christmas stories" or some other impromptu ritual penciled in afterward. To make an understatement, I go a tiny bit overboard.
This year our holiday season will involve a newborn baby, so I've been trying to scale back in my head for months now. We have to have a tree, but we'll skip decorating the house. Or maybe we can put lights on the house, but absolutely no greenery. Oh, but hey look! Christmas wreaths!

It's a sickness, people.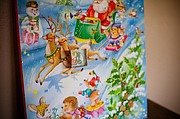 In seriousness, our only advent calendar this year will probably consist of one of those cardboard jobs with the mediocre chocolate behind each door. But just because I'm (wonderfully) benched this year, doesn't mean I can't live vicariously through all of you.

If you're into having fun while you count down to the holidays, here are some of our favorite family activities for December.
• Wrap up a set of cozy pajamas and a holiday book, and stash it under your tree. Make a big deal out of letting the kids open it sometime when you're feeling particularly Grinch-y and watch the feeling fade away.
• Take an evening to make hot chocolate and write letters the big guy, Mr. Claus. If your kiddos are pre-literate, tell them not to worry — Santa speaks scribble and pictures quite well, I'm told.
• And while you're thinking of toys, drop off one or two in a donation box for other kids who need them. While it might be easier to make this a solo errand, I always make a point to do it with my 3-year-old in tow. He doesn't entirely understand why we do it yet, but by repeating it each year I feel like we're getting there.
• Fry a batch of latkes for Hanukkah, which is celebrated from the evening of Dec. 16 through the evening of Dec. 24 this year. Not Jewish? Who cares! Very few cross-cultural learning experiences will ever give you the opportunity for such good eats.
• Decorate! The house, the tree, the chicken coop — you can never have enough twinkle lights!
• Watch one Christmas movie you've never seen before. I grew up on "Rudolph" and "Frosty," but until last year, I'd never seen "White Christmas." A few of our favorites that are lesser-known include "Love Actually" and "The Family Stone."
• Make Christmas candy. We've inherited recipes for sugar cookies and peanut butter balls, but I always make my own favorite — candied orange peels — too. It's a little messier with kids, but let them help anyway. Then enjoy looking at the houses decorated with lights as you deliver your goodies to friends.
• Try your hand at paper snowflakes. With a pair of safety scissors, even little ones can get in on making your house a winter wonderland. I like to use holiday catalogs for the paper — not only does it make the snowflakes colorful, it's a good way to recycle.
• Go see Santa in person. We always seem to forget this one until the very last possible day, but the pictures are priceless. Weaver's dependably has a Santa in the store during the weekends leading up to Christmas, but you should call to check for the specific hours.
• Sled down a big hill on Christmas Eve. Lawrence is just far enough north that a white Christmas is always possible. Have your sled ready, just in case! Our favorite hill is at Centennial Park, 600 Rockledge Road (close to the corner of Ninth and Iowa).
Happy holidays!
— Meryl Carver-Allmond lives in Lawrence and writes about chickens, babies, knitting, gardening, food, photography, and whatever else tickles her fancy on any given day at mybitofearth.net.