Wednesday, December 3, 2014
If you have a gardener to shop for this holiday season, there are many more creative options than the amaryllis bulb gift sets and windowsill herb planters available at many mass retailers. Here are the top 10 ideas to score big with a gardener:
Harvest/gathering baskets
Many gardeners rely on recycled plastic containers and buckets to collect cut flowers, fruit, vegetables and herbs. Select a harvest basket that is attractive as well as useful and it may become a centerpiece in the offseason. Wooden harvest baskets are called trugs. Other baskets combine wood with metal mesh to allow soil and debris to fall through the basket. Woven or cloth-lined baskets are best for delicate crops.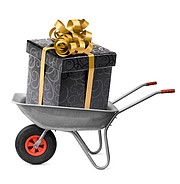 Planters/planting containers
Local garden centers still have a supply of decorative ceramic planters and sets, but you can take the idea up a notch by selecting a container filled with succulents, a terrarium or clear glass orb with an air plant. For the trend-setting gardener, check out Sky Planters (upside-down containers for indoor plants), Circle Pots, pod planters or vertical garden planting systems.
Watering can
Yes, if he/she is really a gardener, they probably already have a watering can or two. Chances are, they long for a heavier-duty version, or a second one to cut the number of trips they have to make to the faucet in half. Look for high-quality stainless steel or galvanized metal with a powder-coated, painted finish.
Tool carrier
Some gardeners prefer a standard toolbox to contain their gardening tools, while others prefer a tote more specific to gardening tools. A bucket caddy offers pockets for tools while leaving the bucket available to the gardener for collecting trimmings or harvesting. Some stools also offer tool pockets, or for the gardener-on-the-go, a belt or apron may be more appropriate.
Stepping stones
A gardener always needs access to spaces in the garden that are just off the beaten path, and stepping stones allow them to get there with less damage to existing plants. Try natural slate as opposed to plain concrete, or look for patterns, designs and sayings with special meaning to your gardening friend.
Bird feeders
If the gardener is interested in birds, try a window-mounted feeder, one made from recycled materials, or a decorative-yet-functional feeder for the landscape. Throw in the appropriate bird food for species that live in your area.
Books
There are hundreds of titles from which to choose. Look for a topic of interest to the gardener and regional specific information when possible. A few popular titles of recent years include "All New Square Foot Gardening, Second Edition: The Revolutionary Way to Grow More In Less Space," "Vertical Gardening: Grow Up, Not Out, for More Vegetables and Flowers in Much Less Space," "Worm Composting: The Ultimate Guide to Worm Composting for Life," and the timeless "Encyclopedia of Gardening."
Protective gear
Hats and gloves are a necessity for gardeners who spend long hours in the sun and soil, and they must be replaced over time. Add sunscreen, insect repellent, and soap if you know what kind the gardener likes and safety glasses and ear plugs for gardeners who spend time operating power tools.
Stools or kneelers
Gardeners may be hesitant to buy these for themselves or admit they need one, but anyone who spends long hours kneeling or bending in the garden can make use of one. Look for stools and kneelers that are gardening specific or that take up little ground space.
Tools
Check out the options at your local garden center to go beyond the typical shovel, rake and trowel. Try an ergonomic version or branch out with specialty weeders and multi-use tools like a Hori-Hori knife.
— Jennifer Smith is a former horticulture extension agent for K-State Research and Extension and horticulturist for Lawrence Parks and Recreation. She is the host of "The Garden Show" and has been a gardener since childhood. Send your gardening questions and feedback to Lawrence Living@ljworld.com.