Wednesday, December 3, 2014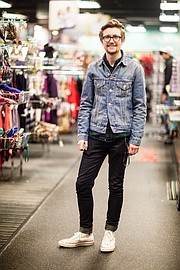 Name: Cyrus Hodgson
Age: 20
Hometown: Milwaukee
Time in Lawrence: 17 years
Relationship status: Single
Occupation: Sales associate and student
Dream job: A buyer for high-end clothing brands
What were you doing when scouted? Working
Describe your style: I think it's a mix of street wear/casual, business (look).
Fashion trends you love: I really like monochrome (colors) like black, white and gray that all go together. It's super cool stuff.
Fashion trends you hate: I don't like how the majority of frat guys dress. Polo is a cool brand but the only Polo I really like is the Purple Label. The stuff that they buy is overpriced and the quality is not always up to par like Brooks Brothers and such.
Fashion influences: I browse like eight different fashion blogs along with Tumblr as well as developing my own ideas and fashion styles.
What would you like to see more or less of in Lawrence? More men dressing better… You don't have to spend a lot of money to look good. Buy stuff on sale and you can look good. Everything is about fit. Less of? Boat shoes and get rid of anything sparkly.
Tattoos or piercings: No, but I hope to get two sleeves done on both arms in the future.
Whom do people say you look like? Leonardo DiCaprio
What type of music do you like? I love alternative and pop music.
Tell us a secret: The most expensive thing I ever bought was a pair of $400 Visvim Virgil boots. They originally retailed for $1,200.