Wednesday, December 3, 2014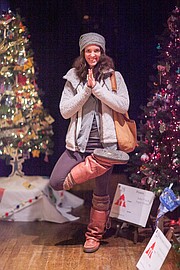 Name: Sharyn Harley
Age: 34
Hometown: I guess my hometown is Lawrence by now.
Relationship status: I'm with my soul mate.
Occupation: I own a yoga studio called OmTree Shala.
Dream job: I'd be on tour with my daughter, Rhubarb, doing music.
What were you doing when scouted? Enjoying the Festival of Trees with my kids.
Describe your style: My daughter says I dress like a yogi (instructor).
Fashion trends you love: I love comfortable boots. The bigger, the sloppier, the furrier, the better!
Fashion trends you hate: I personally have no capacity to pull off neon. Other people do it well but it looks awful on me! I just can't keep up with it.
Fashion influences: It's really bad but I love Free People. It's my major weakness!
What would you like to see more or less of in Lawrence? I would like to see way more people doing Yoga. Less of? Maybe a little less gossip at times. Overall, I love Lawrence.
Tattoos or piercings: My favorite is my nose ring. It was controversial at first but now no one cares. It's amazing what a difference 12 years makes.
Whom do people say you look like? Mary-Louise Parker
What type of music do you like? Jenny Lewis, Kurt Vile, Your Friend, Taryn Miller and a bunch of others.
Tell us a secret: I pretty much listen to Katy Perry exclusively when I run.