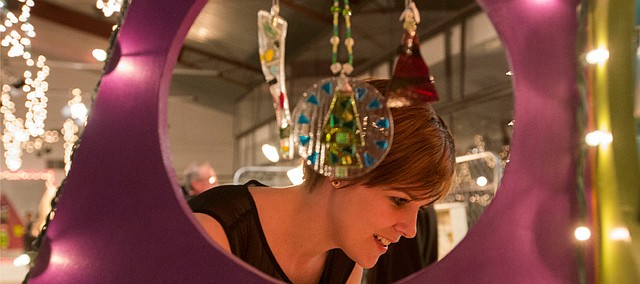 Wednesday, December 3, 2014
Today in Lawrence
is an early-morning digest of essential and not-so-essential info to start your day in Lawrence and Douglas County.
Click here
for past installments.
Cloudy, warmer
Mostly cloudy skies early will become partly cloudy later in the day. The high will be 44 degrees with an overnight low of 27. There is a 10 percent chance of rain overnight, too. The weather will continue to warm up throughout the week.
Common Core work
Join Assistant Superintendent Angelique Kobler to discuss Common Core curriculum at the ECM University-Community Forum. The forum's full topic is "The Practical Effects of Common Core on USD 497 Instruction." The session is from noon to 1 p.m. at the ECM Building, 1204 Oread Ave.
Adorn your holiday
Do your holiday shopping at the Adornment Holiday Art Show and Sale and connect with the artists firsthand. The show gives local artists a chance to bring their vision to the public. The sale is from 1 to 5 p.m. at Van Go, 715 New Jersey St.
Yesterday's most-read
More Dec. 3 events
1 Million Cups presentation, 9-10 a.m., Cider Gallery, 810 Pennsylvania St.
ECM Fair Trade Market, 10 a.m.-7 p.m., ECM Building, 1204 Oread Ave.
Lawrence Festival of Trees, 10 a.m.-8:30 p.m., Liberty Hall, 644 Massachusetts St.
Big Brothers Big Sisters of Douglas County volunteer information, noon, 2518 Ridge Court.
Salvation Army Holiday Dinner, 1-3 p.m., 946 New Hampshire St.
Festival of Wreaths and Trees display, 1-8 p.m., Lumberyard Arts Center, 718 High St., Baldwin City.
Douglas County Commission meeting, check website at www.douglas-county.com for meeting time, Douglas County Courthouse, 1100 Massachusetts St.
The Beerbellies, 6:30-9:30 p.m., Johnny's Tavern, 401 N. Second St.
American Legion Bingo, doors open 4:30 p.m., first games 6:45 p.m., snack bar 5-8 p.m., American Legion Post #14, 3408 W. Sixth St.
INSIGHT Art Talk: John Ferry, "Disintegration," 7 p.m., Lawrence Arts Center, 940 New Hampshire St.
Washburn University Holiday Percussion Concert, 7:30 p.m., White Concert Hall, SW 17th St., Topeka.
Conroy's Trivia, 7:30 p.m., Conroy's Pub, 3115 W. Sixth St.
Pride Night, 9 p.m., Wilde's Chateau, 2412 Iowa St.