Saturday, December 6, 2014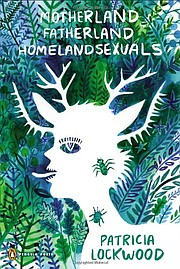 The "Smutty-Metaphor Queen of Lawrence, Kansas" has done it again.
Patricia Lockwood, a Lawrence resident and poet who earned the nickname earlier this year in a New York Times Magazine profile, was noted in the famed newspaper's "100 Notable Books of 2014" list, which will appear in print Sunday.
The list recognized her second collection of poetry, "Motherland Fatherland Homelandsexuals," released in May, as a New York Times Book Review Notable Book. The only other poetry collections on the list are Louise Glück's "Faithful and Virtuous Night," which won the National Book Award for Poetry, and "The Poetry of Derek Walcott 1948-2013."
Lockwood, who is married to Journal-World copy chief Jason Kendall, released her first poetry collection, "Balloon Pop Outlaw Black," in 2012.
Rolling Stone magazine also included Lockwood and her latest book in its 2014 "Hot List" issue, currently on newsstands.