Saturday, December 6, 2014
In an oil painting hanging from a gallery wall on the fourth floor of the Spencer Museum of Art, a man's saucer-shaped eye looks out from underneath the brim of a combat helmet adorned with a crown of barbed wire.
A wildly disheveled beard covers the lower half of his face, framed by a translucent circle that looks an awful lot like a halo.
The man in the painting appears holy, but in reality, he's just a common French foot soldier without a name.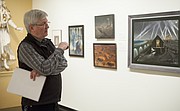 "We don't know anything about the artist or if anyone posed for this," says Spencer associate director Stephen Goddard. But, he says, it makes for a "very, very complex image."
Identified only as "Poilu" — a nickname, literally meaning "hairy one," given to France's unshaven infantrymen entrenched in the battlefields — the painting is one of about 3,500 works of World War I-era art acquired earlier this year by the Spencer Museum.
A portion of the works, gifted by noted art historian and print dealer Eric G. Carlson, are on display now in two exhibitions curated by Goddard, who says the museum plans to rotate the collection in "thematically organized" installations through 2018.
The exhibitions are part of a universitywide commemoration of the 100th anniversary of World War I, which resulted in the deaths of more than 16 million soldiers and civilians from 1914 to 1918.
Goddard says World War I set a lot of things in motion, including more sophisticated technology like armored tanks, poison gas, airplanes and the first-ever widespread use of machine guns.
The war also ushered in new medical developments and the creation of several modern nation states, particularly in the Middle East, Goddard says.
"We're still living with a lot of repercussions of the First World War," he says. "And of course, there's always hope that by studying these events, we'll be able to avoid them in the future. We don't seem to quite have that figured out yet, but hope springs eternal, I think."
Learning from the past
Celka Straughn, the museum's director of academic programs, has led efforts to integrate the collection into various curriculums across KU.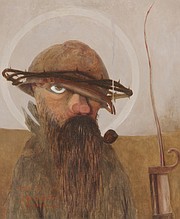 She says the art can open up discussions about contemporary veterans issues, health care and the United States' place in the world, among other topics.
"How we start to interpret the material plays a role in how we understand today and how we understand our past," Straughn says.
Soon after the Carlson gift arrived last spring, Lorie Vanchena, who chairs KU's WWI centennial planning committee and also serves as academic director of European Studies, brainstormed with university faculty at an advisory board organized by Straughn.
Discussing the collection and how it could be incorporated into various courses, Greg Rudnick, an assistant professor in astronomy and astrophysics, asked if the Spencer collection included images of projectiles.
Turns out, there are several. Rudnick said, "'Great, I'll bring my students," Vanchena recalls.
"The possibilities are limitless," says Vanchena, who has incorporated the art into many of her Germanic languages and literature courses. "I can't think of any class on campus that could not use the collection in some meaningful way."
The works are primary resources for students and faculty, meaning they were produced during the war (sometimes by those directly involved in the conflict, such as soldiers and Red Cross nurses) and offer a firsthand perspective of that period.
The "Poilu" painting, titled "1914–15 —etc., dedicated to Ch. O. Galtier" by a person simply known as Gairaud, belongs to "World War I & The End of Empires," a seven-piece exhibition that accounts for nearly half of the paintings given to the museum by Carlson.
The collection also includes some textiles and decorative arts, though graphic art and works on paper make up an overwhelming majority, says Goddard, who also curated a larger exhibition on the museum's third floor called "The Second Battlefield: Nurses in the First World War."
Those pieces, most of which were produced in France, portray nurses as both heroic figures as well as brides of wounded soldiers. One large portfolio by real-life nurse Olga Bing features drawings of her experiences during the war.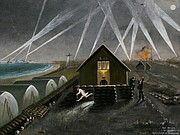 "Everyone's been pretty engaged by it, I think in part because it's not exactly what you'd expect in a World War I exhibition," he says. "There's not a lot of overt propaganda and trench warfare and big political posters."
In October, the museum hosted U.S. Marine veteran Folleh Tamba. There, against the backdrop of the "Nurses" exhibition, Tamba shared original poems he wrote while serving in Afghanistan and Iraq, many of which were inspired by poetry of World War I. About 30 people, including some military-science students, attended the event.
Collection's future
As the current exhibitions wind down (both will remain on display through the end of 2014, though the Spencer's upcoming renovations, slated for this spring, will dictate when they officially close), Goddard looks forward to the future of the collection.
The museum is seeking funding from the National Endowment for the Humanities to process, photograph and catalog the entire collection, most of which is still "loose pieces of paper" stored in folders, Goddard says. It's a slow and tedious endeavor that will involve numbering each piece, writing a description for it and entering it in the Spencer's database.
The grant, if received, would also take care of other "housekeeping" tasks such as providing mats for the pieces.
Normally, stretching the work out over four years or so wouldn't be a problem, but with 2015 fast approaching, museum staffers want to make as much of the collection available as possible before the end of the war centennial in 2018.
They're hoping the NEH will help expedite that project. And by mid-spring, Goddard guesses, they'll get their answer.
"We wrote a strong grant," he says. "Now it's a waiting game."