Kansas City's Union Station is staying busy in its centennial year, and December alone is full of enough events and activities to fill an entire column. Instead, let's focus on just a few of this month's holiday highlights.
This weekend at Union Station's H&R; Block City Stage, Kansas City trio The Snow Globes will be performing two holiday concerts combining their music with the dance and acrobatic talents of the Quixotic School for the Performing Arts.
The concerts will be held at 8 p.m. Friday and Saturday nights. Tickets are $20 at unionstation.org or $25 at the door.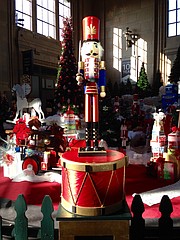 The Regnier Extreme Screen's $2 holiday movie series continues with "Home Alone" on Friday through Sunday.
The "Rocky Mountain Express," an IMAX film that retraces the landscapes and beauty of a classic steam engine ride across the American West, is showing daily through Jan. 5. The 3-D documentary "Jerusalem" is also playing daily, giving viewers an aerial glimpse of the city and an up-close look at many of its holy sites.
Everyday visitors can get their fill of all kinds of train activities, including the miniature train ride that hearkens back to the old amusement ride at the former Jones Store downtown. The train makes three loops at 2 mph, and is appropriate for riders about 5 and under. Tickets for the train are $5 per child. The daytime rides continue through Saturday, Dec. 13 every day but Monday.
Those who are either too tall or too timid for the train ride can check out the expanded model train displays at the back of the grand hall, which include special historical photographs, posters of old Hallmark cards and informational signs about model trains and regional history.
The model train displays are free to the public, though donations are accepted.
Fritz's Railroad Restaurant
If that's not enough train excitement for you, take the kids to eat at Fritz's Railroad Restaurant in Crown Center, the American diner where the food is delivered by train. Diners order from the phone at their booth, and about 10 minutes later a mini locomotive drops it off at your table via an elevated rail system. The food isn't anything special, but it's cheap, the milkshakes are tasty, and kids love the novelty of the experience.
Fritz's also has locations in Shawnee at 13803 W. 63rd St., and in Kansas City, Kan., at 250 N. 18th St., which is the oldest existing location. Hours differ by location, so visit fritzskc.com for more details.
Hot Chocolate Happy Hour
The Power & Light District is hosting a Hot Chocolate Happy Hour on Friday and Saturday from 4 p.m. to 7 p.m. in the courtyard at 14th and Main streets behind Chipotle. The event will include complimentary hot cocoa, music and photos with Santa and his reindeer.
From 7 p.m. to 9 p.m. Friday, the Happy Hour will be followed up by fireworks and s'mores with Santa.
'The Nutcracker and the Mouse King'
The Owen/Cox Dance Group and the People's Liberation Big Band Orchestra are presenting their jazzy, offbeat version of "The Nutcracker and the Mouse King" at 8 p.m. Saturday and 2 p.m. Sunday at the Polsky Theatre on the Johnson County Community College campus, at 12345 College Blvd. in Overland Park.
The funky costumes and whimsical interpretations of Tchaikovsky's score set this event apart from more standard holiday fare. A dance workshop for 6- to 12-year-olds will be held one hour before the Sunday performance in the lobby. Visit owencoxdance.org for tickets, which are $20 for adults, $15 for seniors over 60, and $10 for students.
'MythBusters'
On Thursday, Jamie Hyneman and Adam Savage, the co-stars of the Discovery series "MythBusters," will present their new stage show to a live audience at the Arvest Bank Theatre at The Midland.
"MythBusters: Behind the Myths" will include live experiments, audience participation, storytelling and videos debunking urban myths and exploring the more fascinating details of the role science plays in our daily lives. Tickets are $37.50 and up at midlandkc.com.
— Lucas Wetzel is a writer and editor from Kansas City, Mo. Know of an upcoming event in Kansas City you'd like to see featured in Kansas City Connection? Email us about it at kcconnection@ljworld.com.