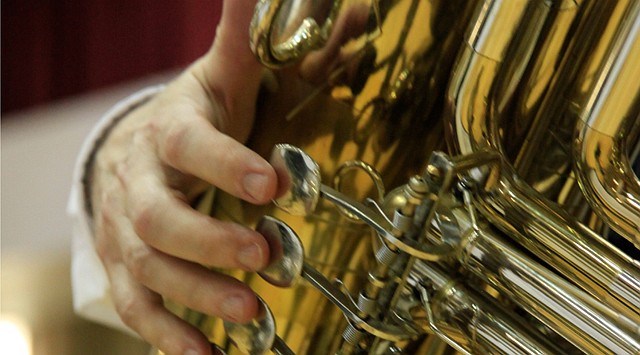 Today in Lawrence
is an early-morning digest of essential and not-so-essential info to start your day in Lawrence and Douglas County.
Click here
for past installments.
Warmth of the season
It still doesn't quite feel like winter: Today's high will be 52 degrees and sunny, with no rain in the forecast. Overnight the skies will be clear with a low of 28 degrees. Tuesday and Wednesday will be a little cooler with highs of 40 and 46 respectively.
Tuba tunes
It isn't often that the tuba gets carry the melody. But at the KU Tuba/Euphonium Consort, the low sounds of the tuba take center stage. The performance is at 7:30 p.m. in Room 130 of Murphy Hall, 1530 Naismith Drive. The event is free and open to the public; come in and fill your evening with music!
Political humor
Murphy Hall is the place to be on this Monday night. Aside from the tuba consort, University Theatre will present "The Last Cyclist" at 7:30 p.m. at the William Inge Memorial Theatre, Murphy Hall, 1530 Naismith Drive. As funny as it is dangerously political, "The Last Cyclist" captures the absurdity of life under the Nazis as well as the resilient spirit of the artists who originally constructed this production inside the Terezin concentration camp.
Yesterday's most-read
More Dec. 8 events
TubaChristmas 2014, noon, Helzberg Hall, Kauffman Center, 1601 Broadway, Kansas City, Mo.
Adornment Holiday Art Show and Sale, 1-5 p.m., Van Go, 715 New Jersey St.
"Costa Rica: Culture & Ecology," 7 p.m., Plymouth Congregational Church, 925 Vermont St.
Lawrence Board of Education meeting, 7 p.m., school district headquarters, 110 McDonald Drive.
Eudora City Commission meeting, 7 p.m., Eudora City Hall, 4 E. Seventh St.