Tuesday, December 9, 2014
Ginger is a spicy root that is small but mighty — not just in size but in both flavor and health benefits.
The pungent cut of its distinct flavor adds kick to everything from candy to stir-fry to, of course, gingerbread. Moreover, it contains powerful anti-inflammatory compounds that can relieve digestion issues and nausea.
Delicious
I love ginger everything. I used to go to sushi restaurants just for the ginger salad dressing, before I was brave enough to try raw fish. (How ridiculously unfortunate those lost opportunities were). I use it in smoothies, stir-fry, soups and even some desserts.
I love ginger ale and ginger beer (the spicier the better) and ginger snap cookies. Seriously, people, this is a strong affinity we are talking about.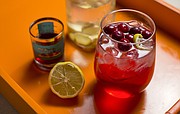 To kick off December, I wanted a festive recipe; something that would incorporate my precious fresh ginger into my holiday merry-making, so I decided on a cocktail.
This is a riff on a signature drink I made for a New Year's Eve party years ago, but I think I might have improved upon the original.
I started with ginger-infused vodka. Infused vodka, as fancy as it sounds, is not fancy at all. Basically, you put some vodka in a jar and toss in some flavoring. Then comes the tricky part: wait.
Ginger-Infused Vodka
3 cups vodka
1 piece of fresh ginger about the size of your palm
Slice the ginger into rounds. Don't bother peeling it. Toss it in the vodka, screw on the lid, wait a week.
When it's properly steeped you can make all manner of cocktails with it. Here is my favorite:
Ginger Vodka Sparkler
2 jiggers ginger-infused vodka
3 ounces ginger beer
1 1/2 ounce cranberry juice
Squeeze of fresh lemon juice
Twist of lemon peel
Handful of fresh cranberries for garnish
Pour over ice, stir, garnish and serve.
Makes one "tall" drink.
Nutritious
Ginger is pretty prevalent in my life these days for something I didn't realize I could buy at the store until I was out of college.
I'll throw a thumb-size piece into my juicer or blender to give a green drink a kick. I'll make chai tea out of it. It goes in nearly every stir-fry I make, and it's a regular in many of my baking recipes. I've also been known to buy the candied version and have it with me during the marathons and ultramarathons I run because even it can calm a race-weary stomach.
My husband and son love it too (the baby, of course, has no opinion just yet). My son will devour ginger cookies and my husband has been known to throw in way more than is necessary in a stir-fry just because he loves the combination of ginger and garlic so much (smart man).
Ginger has a host of documented health benefits and has been used for centuries to treat nausea, an upset stomach and pain. And these days, it's so prized for its anti-inflammatory properties that you can buy it in pill form.
And while pills are great, they, by definition, skimp on the wonderful spicy taste of ginger.
This soup, though, doesn't miss a delicious, nutritious beat. The ginger mingles with garlic (another anti-inflammation star) and curry powder to liven up sweet carrots and hearty lentils. The final meal is warm, comforting and full of vitamin A, protein, good fat, and, of course, ginger's great benefits.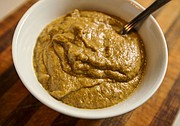 Carrot-Ginger Lentil Soup
3 tablespoons coconut oil, divided
2 red onions, chopped
1 cup dry red lentils
4 cups water
3 large carrots, peeled and roughly chopped
1 14-ounce can coconut milk
1 teaspoon salt
3 cloves garlic, minced
1.5-inch piece fresh ginger, minced
1 tablespoon curry powder
In medium saucepan, heat 2 tablespoons coconut oil over medium heat. Add onions and cook, stirring often, until onions start to brown, about 10 minutes.
Add 4 cups water, lentils, carrots, coconut milk and salt. Cover, and bring to a boil. Reduce heat and simmer, partially covered, until lentils are tender, about 15 minutes.
Meanwhile, in small skillet, heat remaining 1 tablespoon coconut oil over medium heat. Add garlic, ginger and curry powder. Cook, stirring often, until fragrant, about 2 minutes. Add to saucepan.
Using a stick blender, blend soup until smooth. (You can also let it cool and use a regular blender.) Taste, and add a bit more salt if desired.
Serves 4.