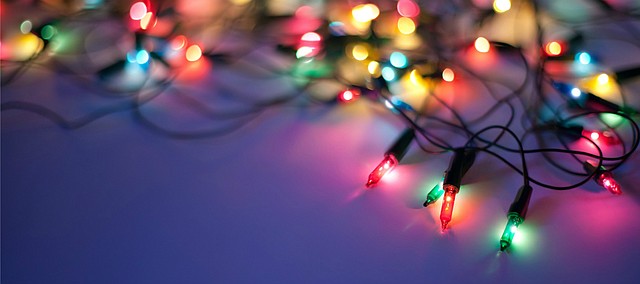 Tuesday, December 9, 2014
Today in Lawrence
is an early-morning digest of essential and not-so-essential info to start your day in Lawrence and Douglas County.
Click here
for past installments.
Temps drop
Today's high will be a bit disappointing after Monday's 50-plus degrees; expect temps to get top off at about 40 today, with mostly sunny skies. Tonight it will cool down to an overnight low of 27 with a few clouds.
Hawk songs
The KU School of Music presents the Rock Chalk Singers at 6 p.m. in Room 328 of Murphy Hall, 1530 Naismith Drive. Experience what KU has to offer among its many choir groups and welcome some music into your day!
Eudora lights tour
The Eudora Parks and Recreation Department offers hayrack rides to view Christmas lights throughout the Eudora area each Tuesday night through Dec. 23. Rides begin at 6:30 p.m., and the cost is $2 per rider. Riders should meet at the Eudora Community Center, 630 Elm St. It's a fun way to enjoy the lights and meet people in the community.
Yesterday's most-read
More Dec. 9 events
Red Dog's Dog Days workout, 6 a.m., Allen Fieldhouse (second floor, south side), 1651 Naismith Drive.
Adornment Holiday Art Show and Sale, 1-5 p.m., Van Go, 715 New Jersey St.
Coalition on Homeless Concerns monthly meeting, 3-5 p.m., Lawrence Public Library, 707 Vermont St.
Big Brothers Big Sisters of Douglas County volunteer information, 5:15 p.m., 2518 Ridge Court.
Lonnie Ray's open jam session, 6-10 p.m., Slow Ride Roadhouse, 1350 N. Third St., no cover.
Lawrence City Commission meeting, 6:35 p.m., City Hall, 6 E. Sixth St.
Herbs study group, 7 p.m., Unitarian Fellowship, 1263 North 1100 Road.
Sexuality Education Committee Film Showing: "Generation M," 7 p.m., Ecumenical Campus Ministries, 1204 Oread Ave.
Kansas City Jazz Orchestra Annual Christmas Concert, 7 p.m., Helzberg Hall, Kauffman Center, 1601 Broadway, Kansas City, Mo.
Free English as a Second Language class, 7-8 p.m., Plymouth Congregational Church, 925 Vermont St.
Affordable community Spanish class, 7-8 p.m., Plymouth Congregational Church, 925 Vermont St.
KU Choirs: Bales Chorale, 7:30 p.m., Bales Organ Recital Hall, 1600 Stewart Drive.
Tuesday Concert Series: Larry Carter and Friends, 7:30 p.m., Lawrence Arts Center, 940 New Hampshire St.
"The Last Cyclist," 7:30 p.m., William Inge Memorial Theatre, Murphy Hall, 1530 Naismith Drive.
Gamer Night, 8 p.m., Burger Stand at the Casbah, 803 Massachusetts St., free.
Free swing dancing lessons and dance, 8-11 p.m., Kansas Room in the Kansas Union, 1301 Jayhawk Blvd.