Wednesday, December 10, 2014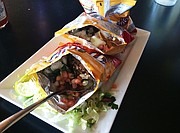 The "Walking Taco" is all about convenience. Order up a plate of these babies at Henry T's and forget about the to-go box.
This treat (which also goes by monikers like "Frito boat" and "taco-in-a-bag") is popular at sports venues, fundraisers and the like for its portability.
Seasoned ground beef (or black beans), queso fresco, and pico de gallo are stuffed inside a snack-sized bag of Fritos, garnished with a bed of shredded lettuce and a few lime wedges.
It's a bit of a surprise to see a trio of food-filled Frito bags tastefully arranged at a sit-down restaurant, but the dish still delivers taco flavor in a pinch.
Where to get it: Henry T's Bar & Grill, 3520 W. Sixth St.
What you'll pay: $7.49 for three, or a la carte for $2.79
Try it with: An order of guacamole or chips and salsa
Also on the menu: Plenty of pizzas, burgers, sandwiches, salads, meat entrees and a varied small-plates roster that includes everything from the Walking Taco to potstickers to BBQ pork sliders.