Wednesday, December 10, 2014
Black Friday, Cyber Monday ― blech! Call me a Grinch if you want, but I hate the mall. I'd much rather do my holiday shopping at the grocery store.

There, with just the teeniest bit of elbow grease, you can make adorable homemade gifts for everyone on your list ― often for the same or less than what you'd spend at a more conventional holiday shopping venue.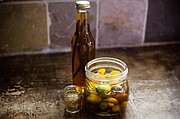 What's more, by giving consumables you're giving your friends a double gift ― something yummy and something that won't needlessly take up space in their homes once the holidays are over.
Here are three delicious food gifts you can put together from the grocery store.
Herbed Popcorn Salt
This popcorn salt recipe is easy to scale up or down depending on how many people are on your gift-giving list. Package it up with a pretty bag of gourmet popcorn kernels from the bulk department at the Merc and/or a movie to make a sweet family gift.

Ingredients:
3 tablespoons Herbs de Provence
2 tablespoons sea salt
2 teaspoons ground mustard
1 teaspoon garlic flakes or granules
Directions:
Combine all of the ingredients together in a small bowl, then parcel the mixture out into smaller containers for gift-giving. This recipe makes about half of a cup, which is plenty for 2 or 3 bowls of popcorn.

Marinated Citrus-y Olives
Olive oil can be a good environment for botulism, so these need to be stored in the fridge and consumed within a week. The oil will gel up in cold storage, but if you set the olives out at room temperature for a few minutes before serving, all will be well. This would make a nice hostess gift to take to a holiday party.
Ingredients:
6 ounces mixed olives, like Kalamata or manzanilla
1 cup olive oil
10-15 sprigs thyme
2 teaspoons red pepper flake
Zest of 2 oranges and 2 lemons
Directions:
Put everything but the olives in a saucepan and warm over low heat for about 10 minutes. Pour the hot oil mixture over the olives, cover and refrigerate immediately. These are better if you can make them about 24 hours before you want to eat them, but be sure to finish them completely within a week.
Bourbon Vanilla
If you want to do this as a gift for several people you should order vanilla beans in bulk online, but, for just a bottle or two, the Merc sells beans for under $2 apiece. Don't worry about buying expensive bourbon, as the amazing fragrance and taste of the vanilla beans will quickly take over anyway. Consider packaging this up with your favorite cookie recipe written out on a pretty card.
Ingredients:
4-5 vanilla beans
1 pint of inexpensive bourbon
Directions:
Split the beans in half with a sharp knife, put them in a pretty bottle and cover them with bourbon. The vanilla won't be fully flavored for at least a few weeks, but it lasts indefinitely.
— Meryl Carver-Allmond lives in Lawrence and writes about chickens, babies, knitting, gardening, food, photography, and whatever else tickles her fancy on any given day at mybitofearth.net.