Wednesday, December 10, 2014
This weekend, Ric Averill will complete his months-long transformation into Gen. Hugh Cameron, an eccentric figure who settled in Lawrence during the tumultuous years just before the Civil War.

The Lawrence Arts Center will open "A Kansas Nutcracker" on Friday evening, with Averill, its longtime artistic director, playing the role of Cameron.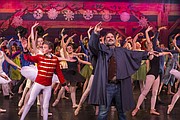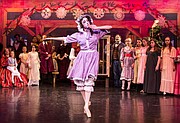 If you go
What: "A Kansas Nutcracker: 1856 Bleeding Kansas Edition"
Where: Lawrence Arts Center, 940 New Hampshire St.
When: Performances run Dec. 12-21. Check online for a complete list of dates and times.
Cost: Tickets cost $21 for adults, $18 for seniors and $15 for students.
The self-appointed "Kansas Hermit" was known for his long, flowing beard.

"I wish I could grow one as long as Hugh Cameron's, but it would take so long, my wife would leave me before I was done," jokes Averill, who stopped shaving back in September. "She already thinks I look like the 'Unabomber.'"
Since co-creating "A Kansas Nutcracker" with Deborah Bettinger in 2002, Averill and the Lawrence Arts Center have staged the riff on Tchaikovsky's classic ballet nine times, with variations periodically.
The original version, which he guesses has been staged on seven occasions, was "less historically specific" than its new incarnation, Averill says.
"The first five years, we did a version that was set in 1857," he says. "We had John Brown and a few Missouri ruffians that showed up at the party, and Clara's dreams were dreams of Kansas, but it was an overall 'Territorial Days' theme."
This season's production, dubbed the "1856 Bleeding Kansas Edition," is set in December of that year, which saw the Sacking of Lawrence as well as the Pottawatomie and Osawatomie massacres.
"The idea was to go back to those early days," Averill says of the production, which also features portrayals of famous Lawrencians such as John Brown, Charles Robinson, and of course, Averill's Cameron.
An avid history buff, Averill wanted to stage a retelling of the Battle of Fort Titus. Audiences will see some of that action on stage, he promises.
Not long after Sheriff Samuel Jones' destroyed The Herald of Freedom presses in the Sacking of Lawrence, abolitionists fished the presses out of the Kansas River and melted them down into cannonballs.
As Free State forces fired each cannonball, they called out, "Here comes another issue of the Herald of Freedom," Averill says.
The new "Kansas Nutcracker" will realign a few dances with their intended pieces of music from Tchaikovsky's "The Nutcracker," such as the grand pas de deux at the end of Act II.
Cynthia Crews, artistic director of the Lawrence Ballet Theatre, and Hanan Misko, the Arts Center's dance program director, also choreographed two new dances for the production. One features crops and farmers, and will be performed only by boys because of the center's increased enrollment in its boys' dance classes. The other will be a pointe ballet dance that showcases the Arts Center's experienced ballet students

A live 12-piece orchestra will again be performing the musical arrangements by Musical Director Jeff Dearinger.
With about 150 dancers and actors, this year's "Kansas Nutcracker" boasts its biggest cast yet. Among the varied mix of seasoned professionals and community performers are several members of the same families, including Averill's.
For the second year in a row, three generations of the Averill family will be represented on the "Kansas Nutcracker" stage. Ric's daughter, Trish Nenuteboom, and 6-year-old granddaughter, Bella Nenuteboom, will play the roles of Clara's mother and younger sister, respectively.
"I'm also on stage with my students and their children, so it's not just my own daughter's generation," Averill says. "I'm acting with the children of the students I had 20 or 30 years ago. It's pretty fun."