Wednesday, December 10, 2014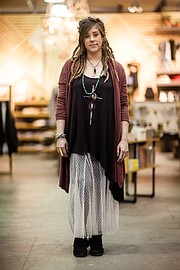 Name: Nici Ashner
Age: 23
Hometown: Overland Park
Time in Lawrence: Five years
Relationship status: I have a boyfriend.
Occupation: I'm an accessories manager and I have a degree in textile design.
Dream job: Having my own business designing garments or textiles (for garments).
What were you doing when scouted? Just working
Describe your style: I'd say that it's a bit bohemian with a little bit of hippie/flowy stuff.
Fashion trends you love: Velvet thigh-highs are my two favorites this year. Velvet is coming back!
Fashion trends you hate: I'm not a fan of super-high-waisted jeans and rompers.
Fashion influences: A lot of my art is inspired by nature so I choose a lot of natural hues, which influences my style.
What would you like to see more or less of in Lawrence? I would love more of a good music scene in Lawrence. It's gone downhill for the last few years.

Tattoos or piercings: Tons. I have 15 piercings and eight tattoos.
Whom do people say you look like? My friend just said Sarah Jessica Parker.
What type of music do you like? I like jam-type music and down-tempo ethnic stuff like Thievery Corporation.
Tell us a secret: I overthink things way too much. I'm too much of a thinker!