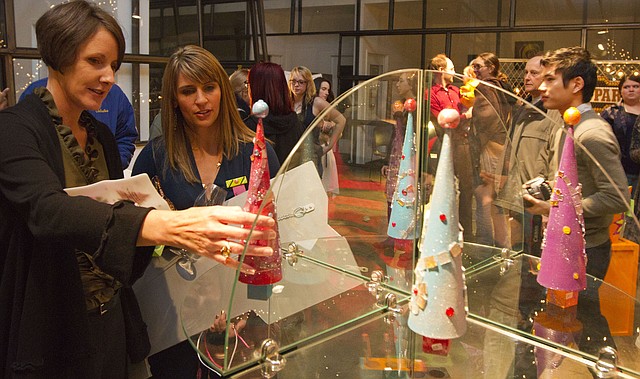 Wednesday, December 10, 2014
Today in Lawrence
is an early-morning digest of essential and not-so-essential info to start your day in Lawrence and Douglas County.
Click here
for past installments.
Settling into the 40s
The weather will continue to be in the 40s today and tomorrow. Today's high will be 41 degrees with a few sprinkles possible under partly cloudy skies. The overnight low will be 33 degrees. Thursday's high is forecast for 48 degrees.
Arts for sale
Are you an overachiever who is already finished with holiday shopping? For those of us still hunting for great gifts, it's time to check out the Adornment Holiday Art Show and Sale at Van Go. The sale is from 1 to 5 p.m. at the studio, 715 New Jersey St. Works are created by young artists — you might even get to meet the artist in person!
Funds for fun
Fun! Games! Prizes! Find those and more at Lawrence High's JAG Holiday Festival from 6 to 8 p.m. at the Lawrence High School cafeteria, 1901 Louisiana St. Half of proceeds will go to the local Salvation Army. The other half will go to Lawrence High School's JAG career development program and educational activities for JAG students.
Yesterday's most-read
More Dec. 10 events
1 Million Cups presentation, 9-10 a.m., Cider Gallery, 810 Pennsylvania St.
"Welcome to Medicare" information session, noon, Lawrence Senior Center, 745 Vermont St.
Big Brothers Big Sisters of Douglas County volunteer information, noon, 2518 Ridge Court.
Candy Construction (ages 5-18), 3:30-5 p.m., Lawrence Public Library, 707 Vermont St.
Douglas County Commission meeting, check website at douglas-county.com for meeting time, Douglas County Courthouse, 1100 Massachusetts St.
Thrifty Gifter DIY Holiday Gifts: Magnetic spice jars, 6 p.m., Lawrence Public Library auditorium, 707 Vermont St.
American Legion Bingo, doors open 4:30 p.m., first games 6:45 p.m., snack bar 5-8 p.m., American Legion Post #14, 3408 W. Sixth St.
Lawrence Pedestrian Coalition Meeting, 7 p.m., Carnegie Building, 200 W. Ninth St.
KU Choirs: Men's Glee, 7 p.m., KU Edwards Campus, 12600 Quivira Road.
Classics Uncorked: Waltzing in a Winter Wonderland, 7 p.m., Helzberg Hall, Kauffman Center, 1601 Broadway, Kansas City, Mo.
The Big Picture: Lawrence Climate Change Talks, 7-8:30 p.m., Lawrence Jewish Community Center, 917 Highland Drive.
KU Trombone Choir, 7:30 p.m., Room 130, Murphy Hall, 1530 Naismith Drive.
Tuesday Concert Series, 7:30 p.m., Lawrence Arts Center, 940 New Hampshire St.
"The Last Cyclist," 7:30 p.m., William Inge Memorial Theatre, Murphy Hall, 1530 Naismith Drive.
Conroy's Trivia, 7:30 p.m., Conroy's Pub, 3115 W. Sixth St.
Pride Night, 9 p.m., Wilde's Chateau, 2412 Iowa St.