Wednesday, December 17, 2014
If you catch a glimpse of the Grilled Glazer from far away, it might appear to be a normal chicken sandwich. Upon closer inspection, though, and it's pretty clear that this is no ordinary meal.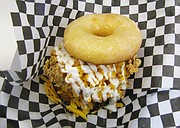 Instead of sandwich buns, diners bite into a toasted maple-glazed doughnut with a layer of fried chicken breast, cheddar cheese and a drizzle of "secret sauce." It's breakfast, dinner and dessert all rolled into one package.
Where to get it: Harolds Fried Chicken & Donuts, 3300 W. Sixth St. The space inside the Miller Mart formerly occupied by Eats reopened under a new concept earlier this week. The same man behind Eats (Nick Wysong) and his Ingredient co-founder Steve Kerner own Harolds.
What you'll pay: $6
Try it with: Harolds offers several sides (the list includes fries, macaroni and cheese, and chicken noodle soup) but we tried a small cup of cole slaw for $1.50 — you know, to get some greens in there.
Also on the menu: The name says it all — fried chicken and doughnuts. Each fried-chicken meal is accompanied by maple-glazed donuts and a choice of dipping sauce, of which there are six.
— Off The Beaten Plate highlights some of the more exotic, oddly named or inventively concocted dishes from local menus. Know of an offbeat item we should check out? Email reporter Joanna Hlavacek at jhlavacek@ljworld.com. Follow her at Twitter.com/hlavacekjoanna.