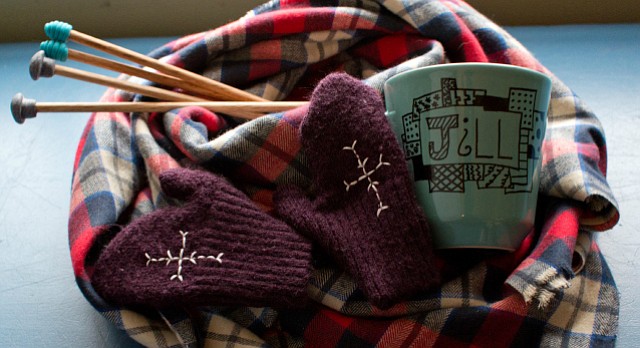 Wednesday, December 17, 2014
The warmth of a handmade gift goes a long way toward cutting through December's chill. But what if you're not particularly crafty or can't spend a fortune on supplies? Can you still give handmade gifts that your family and friends will treasure?
Fear not, because you can! Here are four warm and cozy handmade presents that won't leave you pulling out your hair or emptying out your wallet.
---
No-Sew Blanket Scarf
Judging by the ads in my email inbox, these oversized blanket scarves are going to be very trendy this year. No need to pay retail price for one, though — if you can use a pair of scissors you can make a stack of these for a fraction of the cost.
Supplies
2 yards plaid, flannel fabric ($12 at JoAnn Fabrics)
Scissors
Straight pin or small safety pin
Directions
Head to the fabric store and pick out 2 yards of plaid flannel. If necessary, use your scissors and the lines in the pattern of the fabric to trim the two cut ends to a straight edge. Then, use the pin to tease out a few threads parallel to the cut edges. Unravel threads until the fringe is as deep as you'd like and you're all done. Seriously, it doesn't get any easier than this!
---
Doodled Custom Coffee Mug
Nothing's cozier on a cold winter morning than curling up with a warm drink. Encourage a friend to enjoy this pleasure of the season with a pretty, personalized mug.
Supplies
Mug ($2 at Target)
Ceramic paint pen ($4 at Michaels)
Directions
Wash and dry the mug well. Carefully doodle your design on the surface of the mug using the ceramic paint pen. Consider doodling the recipient's name, a repeating geometric pattern, or perhaps a funny saying. Bake the mug in your oven according to the directions that come with the pen and package it up with some tea or cocoa mix.
---
Recycled Mittens
Don't you hate it when you shrink a favorite sweater? Instead of tossing it, make an inexpensive pair of recycled mittens.
Supplies
One shrunken, wool sweater
Matching thread
Needle
Scissors
Hand pattern
Contrasting embroidery floss (optional, less than $1 at any sewing store)
Directions
Leaving about 1/2-inch border for a seam allowance, trace the hand of the recipient — or someone with a similarly sized hand — onto a piece of sturdy paper. Line the wrist of the pattern up with the bottom edge of your sweater and carefully cut around the pattern through both layers of the sweater. Flip the pattern over to make a mirror image and cut out the second mitten in the same manner.
If you want plain mittens, just whipstitch each set of cutouts together around the edge, then turn them right side out.
To make the mittens a little more special, consider embroidering a quick snowflake on the top mitten cutout in each stack using the contrasting embroidery floss. Be careful not to pull the embroidery too tight as you sew or it will distort the picture. With the embroidered pattern facing the inside of the mitten, whipstitch the pairs together and turn right side out, just as with the plain mittens.
---
Handmade Knitting Needles
This one isn't technically "warm" by itself, but if you make a knitting friend a pair of these handmade needles, you're likely to get a snuggly scarf in return.
Supplies
1/4-inch hardwood dowel rod (About $3 at Westlake Ace Hardware, one rod will make 2 sets of needles)
Small saw
Electric pencil sharpener or sharp pocket knife
Fine grit sandpaper
FIMO clay ($3.50 at Michaels)
Craft glue
Wood oil or mineral oil to seal the needles
Directions
Use a small saw to cut the dowel rod into pieces that are each about 10 inches long. If you have an electric pencil sharpener, pop one end of each dowel rod piece inside to whittle down the points. If you don't have access to a pencil sharpener, a sharp knife will do the job, too — it just takes a little longer. Last, lightly sand the entire needle, including the point, and rub it down well with wood or mineral oil to seal it.
For the end stoppers, you could glue on buttons or small cabinet fixtures, but I decided to use FIMO clay. To do the same, form the clay around the flat end of your knitting needles in whatever shape you would like. Remove the FIMO beads from the ends of the needles and bake the clay in a 250 F oven for about 30 minutes. When the beads are cool, put a dab of craft glue on the flat end of each knitting needle and press the bead on firmly to adhere it. These will make knitting needles that are about a size 10, so package them up with a skien of thick, chunky yarn.
— Meryl Carver-Allmond lives in Lawrence and writes about chickens, babies, knitting, gardening, food, photography, and whatever else tickles her fancy on any given day at mybitofearth.net.