Wednesday, December 17, 2014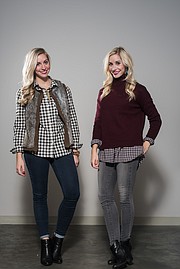 Winter is upon us, and bundling up is always on my mind.

Although layers are necessary, it's important that your layers don't create too much bulk. You certainly want to stay warm, but keep in mind you want to be comfortable once you get through the door without having to remove multiple layers.

A faux fur vest is one of my favorite pieces to sport to create layers during winter. They are a versatile and easy way to add flair to any look. The vest I am wearing isn't very bulky but still adds an extra layer to keep me warm.
When looking for a fur vest, keep a few things in mind. You don't want it to be too overbearing. Try out a medium-sized vest. This will allow you to wear it with other pieces such as button-up shirts (like I am wearing), dresses or even lightweight sweaters. A vest that is dense and bulky can easily overpower a look and doesn't mesh well with everything.
I'm always on the lookout for a piece that can easily be paired with clothes I already have in my closet. You also want to purchase a vest in a neutral color like gray, camel or black. These colors will go nicely with other colors. Fur vests are already unique pieces, so you want to keep the color neutral and subtle.

Another piece I love for winter is a chunky turtleneck. I know you may be wondering why, but these are very stylish and trendy right now. I love to layer chunky turtleneck sweaters with a button-up, as I did with the fur vest. You could also try for an oversized button-up so it hangs out from underneath the sweater, like Emily did.
These are necessary pieces for this time of the year, and are easy to incorporate and pair with pieces you already have in your closet!
— Emily and Elizabeth Kennedy are twin sisters and fashion bloggers who share a blog called Fashion Column Twins. Elizabeth wrote this column. They can be reached at fashioncolumnblog@gmail.com.