Wednesday, December 17, 2014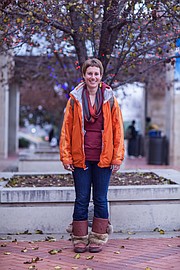 Name: Courtney Crouch
Age: 34
Hometown: Wichita
Time in Lawrence: Since 1998
Relationship status: I'm in one.
Occupation: I'm studying psychology.
Dream job: A clinical psychologist
What were you doing when scouted? I was in a lab meeting.
Describe your style: I would call it "things I like to wear." That's how I get dressed! I guess it's eclectic.
Fashion trends you love: It's tough these days but I love moccasins.
Fashion trends you hate: I disapprove of all of those shorts that are just way to short and most of the '90s stuff that is coming back.
Fashion influences: Friends, maybe?
What would you like to see more or less of in Lawrence? More thoughtful conversations. Less of? Thoughtless conversations.
Tattoos or piercings: I have one tattoo of a sugar skull and ear piercings.
Whom do people say you look like? I used to get Daryl Hannah a lot when I had long hair.
What type of music do you like? Hip-hop and bluegrass
Tell us a secret: I don't like bacon.