Wednesday, December 17, 2014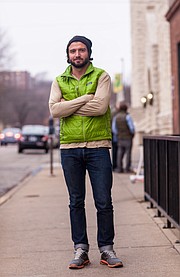 Name: Kyle Meyers
Age: 31
Hometown: St. Paul, Minn.
Time in Lawrence: Two years
Occupation: I am one of the owners of an event production company called Silverback.
Dream job: I'm doing what I love. I have the opportunity to travel around the country producing unique and cool events.
What were you doing when scouted? Building a pingpong table for our Christmas party.
Describe your style: It's different every day. Right now, it's just comfort, ease and a little bit of warmth.
Fashion trends you love: My buddy owns a jean company in L.A. called Simon Miller. I just watch what he does. I'm just an easy jeans and T-shirt type of guy for the most part.
Fashion trends you hate: I don't understand why girls wear running shorts all the time. I guess it's because it's a college town.
Fashion influences: Different magazine, newspapers and just what I'm feeling.
What would you like to see more of in Lawrence? I'd like to see at least one higher-end men's shop in Lawrence and more jazz music.
Tattoos or piercings: I have quite a few tattoos... I have a lion on my chest.
Whom do people say you look like? I got Bradley Cooper the other day!
What type of music do you like? I love it all. Jazz, folk and Minnesota hip-hop are some of my favorites..
Tell us a secret: I don't watch TV much.