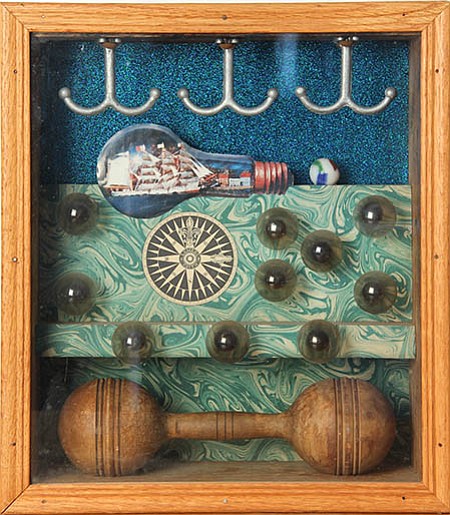 Wednesday, December 17, 2014
Today in Lawrence
is an early-morning digest of essential and not-so-essential info to start your day in Lawrence and Douglas County.
Click here
for past installments.
Let it snow
Winds will be light and variable, and skies will be partly to mostly cloudy with a high of 37 degrees today. The clouds will continue into the evening with an 80 percent chance of snow. Overnight, the low will be 29 degrees.
Singalong at library
Sing, move, and play with Karen of Meadowlark Music Together, in the Reader's Theater at the Library. It's the Winter Holiday Singalong for children birth to 7 years old. The singing will be from 9:30 to 10:30 a.m. at the Lawrence Public Library, 707 Vermont St.
Box art
Magic Boxes by the late artist Nick Vaccaro is on exhibit at the Lawrence Arts Center. There are over 100 pieces were made by the late artist and Kansas University art professor during the late 1960s into the mid 1970s. Most of the pieces in the show have never been exhibited. The exhibit is open from 9 a.m. to 9 p.m. today at the Lawrence Arts Center, 940 New Hampshire St.
Yesterday's most-read
More Dec. 17 events
1 Million Cups presentation, 9-10 a.m., Cider Gallery, 810 Pennsylvania St.
Winter Holiday Singalong (ages 0-7), 9:30-10:30 a.m., Lawrence Public Library, 707 Vermont St.
Big Brothers Big Sisters of Douglas County volunteer information, noon, United Way Building, 2518 Ridge Court.
The National Active and Retired Federal Employees, noon, Conroy's Pub, 3115 W. Sixth St.
Adornment Holiday Art Show and Sale, 1-5 p.m., Van Go, 715 New Jersey St.
Douglas County Commission meeting, check website at douglas-county.com for meeting time, Douglas County Courthouse, 1100 Massachusetts St.
KU Industrial Design Guitar Class final project presentation, 4:30-7 p.m., Mass Street Music, 1347 Massachusetts St.
North Lawrence Community Dinner, 5:30-7 p.m., Centenary United Methodist Church, 245 N. Fourth St.
The Beerbellies, 6:30-9:30 p.m., Johnny's Tavern, 401 N. Second St.
American Legion Bingo, doors open 4:30 p.m., first games 6:45 p.m., snack bar 5-8 p.m., American Legion Post #14, 3408 W. Sixth St.
NAMI-Douglas County Support Group meeting, 7-8:30 p.m. Lawrence Public Library, 707 Vermont St.
Painting Class: "White Christmas," 7-9 p.m., Painted Kanvas, Suite H, 1540 Wakarusa Drive.
Topeka Symphony Orchestra, 7:30 p.m., White Concert Hall, SW 17th St., Topeka.
Conroy's Trivia, 7:30 p.m., Conroy's Pub, 3115 W. Sixth St.
Pride Night, 9 p.m., Wilde's Chateau, 2412 Iowa St.