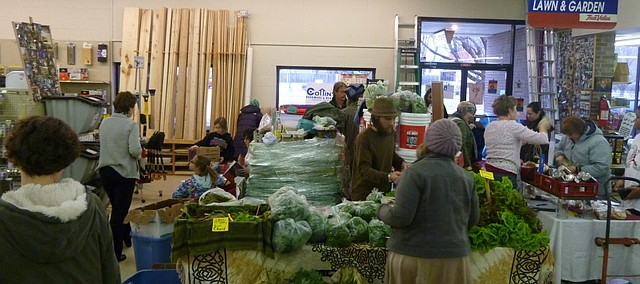 Thursday, December 18, 2014
Today in Lawrence
is an early-morning digest of essential and not-so-essential info to start your day in Lawrence and Douglas County.
Click here
for past installments.
Snow showers
Today will be mostly cloudy with snow showers in the morning; high will be about 35 degrees. Patchy, freezing drizzle is possible, with a chance of snow at 50 percent. The overnight low will be 30 degrees.
Winter fresh
Don't let the cold wintertime keep you from getting fresh, farmers' market goods. Cottin's Hardware Farmers Market goes indoors this winter from 4-6 p.m. at Cottin's Hardware and Rental, 1832 Massachusetts St. There will be eight to 10 vendors each week, with a selection of fresh local produce; local storage crops such as potatoes, squash and turnips; local farm fresh eggs; local meat; baked goods, honey and more!
Retro holiday
Get retro-festive with a lounge-themed Christmas at Frank's with BongoTini on stage. Bongotini brings back all the good retro-lounge stuff, including special holiday favorites like "Rudolph the Red Nosed Reindeer Mambo" and "Jingle Bells (Cha-Cha All The Way)," plus a short set by special guests The Sweet Sisters of Swing. BongoTini's Annual Christmas Festiganza is from 7 to 9 p.m. at Frank's North Star Tavern, 508 Locust St.
Yesterday's most-read
More Dec. 18 events
Red Dog's Dog Days workout, 6 a.m., Allen Fieldhouse (second floor, south side), 1651 Naismith Drive.
Story Time for Preschoolers, 10-10:30 a.m., Prairie Park Nature Center, 2730 Harper St.
Adornment Holiday Art Show and Sale, 1-5 p.m., Van Go, 715 New Jersey St.
KU Youth Chorus rehearsal, 4:30 p.m., Room 328, Murphy Hall, 1530 Naismith Drive.
Dinner and Big Band music, 5:30 p.m., American Legion Post #14, 3408 W. Sixth St.
The Alzheimer's Association Caregiver Support Group, 5:30-6:45 p.m., Conference Room D-South, Lawrence Memorial Hospital, 325 Maine St.
Sons of the Union Veterans, 6:30 p.m., Watkins Community Museum of History, 1047 Massachusetts St.
Junkyard Jazz Band, 7 p.m., American Legion, 3408 W. Sixth St.
Christmas Festival, 7 p.m., Helzberg Hall, Kauffman Center, 1601 Broadway, Kansas City, Mo.
Free English as a Second Language class, 7-8 p.m., Plymouth Congregational Church, 925 Vermont St.
Affordable community Spanish class, 7-8 p.m., Plymouth Congregational Church, 925 Vermont St.
Painting Class: "Tea Time," 7-9 p.m., Painted Kanvas, Suite H, 1540 Wakarusa Drive.
Signs of Life Bluegrass Gospel Jam, 7-10 p.m., Signs of Life, 722 Massachusetts St.
The Nutcracker, 7:30 p.m., Muriel Kauffman Theatre, Kauffman Center, 1601 Broadway, Kansas City, Mo.
Team trivia, 9 p.m., Johnny's West, 721 Wakarusa Drive.
Thursday Night Karaoke, 9 p.m., Wayne & Larry's Sports Bar & Grill, 933 Iowa St.