Saturday, December 20, 2014
"You can push her over there," said the woman behind the desk.
That's how Lorraine Cannistra remembers being greeted at an appointment a few days ago, when an office worker directed questions about Cannistra's insurance coverage, not to the 46-year-old herself, but to her college-aged caregivers.
"She pretended like I wasn't in the room," Cannistra says.
It's an extreme example, she admits, but not exactly a rarity. For Cannistra, who has cerebral palsy and uses a wheelchair to get around, encounters like these happen once or twice a week.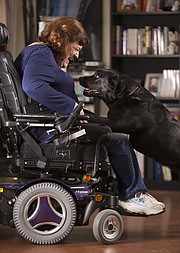 Most of the time, she's able to laugh it off. But on that day, the hurtful, condescending words had weaseled their way under her skin — and she wanted them out.
"I was really upset. Do people not understand that I have a master's degree? And what if I pretended a grown up wasn't in the room because they wore glasses? That wouldn't be fair," she recalls thinking to herself. "But I just had to get it all out and say, 'Now it's OK.' If I can write about it, it's not inside me anymore."
Writing offers a special form of therapy for Cannistra, a Lawrence-based author, blogger, ballroom dancer and former Miss Wheelchair Kansas whose stories have been featured in five "Chicken Soup for the Soul" books over the last two years.
She started writing regularly as a student at Emporia State University, where she earned a bachelor's degree in English and a master's degree in social rehabilitation, as a way to sort through emotions and "make sense of life."

It wasn't until joining a local writers' group, however, that she thought seriously about publishing her work.
"One of my goals in life, one of the things that I think I was born to do, is to challenge negative perceptions that people have of people with disabilities," Cannistra says. "I speak and I write, and it all flows from that."
In 2013, Cannistra's writing appeared in "Chicken Soup for the Soul" volumes "It's Christmas: 101 Joyful Stories about the Love, Fun, and Wonder of the Holidays," "The Dating Game: 101 Stories about Looking for Love and Finding Fairytale Romance!" and "From Lemons to Lemonade: 101 Positive, Practical, and Powerful Stories about Making the Best of a Bad Situation."
Her two most recent offerings in "Chicken Soup for the Soul: The Dog Did What?" and "Chicken Soup for the Soul: Find Your Inner Strength," were released this past August and October, respectively.
Both stories are about Marshall, Cannistra's first service dog.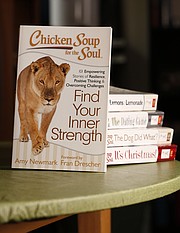 The yellow Labrador retriever bounded into her life as a spirited 2-and-a-half-year-old, still young and full of energy. It hadn't been more than three weeks after picking him up from the service dog school, however, when Marshall's veterinarian delivered the devastating news.

From Lawrence to Hollywood
"When I started dancing in 2008, it totally changed my perception of what was possible for my life," says Cannistra, who always figured dancing would have to stay on the list of things she couldn't do because of her disability, like climbing a tree or hopping the fence.
She's since fallen in love with the sport and the "freedom" it offers on the dance floor.
Cannistra wants to share that joy with others on "The Ellen DeGeneres Show," where she hopes to perform with her dance partner, Brandon White.
To generate support for her goal, check out her Thunderclap campaign at www.thunderclap.it titled "Wheelchair Dancing with Ellen" and then "like" and "share" her Facebook page, "Help Lorraine and Brandon dance on Ellen."
Her goal is to gain at least 100,000 supporters on Thunderclap, which she hopes will generate in Facebook "likes" and ultimately catch the eye of "Ellen" producers.
"I'm glad we did the biopsy, Lorraine," he gently told her. "The lump was full of cancer."
She made a call to the owner of the school and was told matter-of-factly that if Marshall died, she could always "get another dog."
That wasn't an option.
Cannistra had already bonded with Marshall in that short time, and wasn't ready to give up on him yet. After all, she says, "My parents didn't decide to get another one when they found out I had a disability."
For the next nine years, Cannistra stuck by Marshall through one surgery to the next as his cancer disappeared and then returned twice.
The last time, back in 2008, just happened to coincide with Cannistra's trip to the Miss Wheelchair America pageant in Bethesda, Md. At nearly 12 years old, Marshall had finally taken a turn for the worse. He was dying, and Cannistra had a decision to make.
"I remember sitting up all night with him the night before I left for the Miss Wheelchair America pageant, thinking, 'Do I go? Do I stay with him?'" says Cannistra, who chose to have him put down the day after she got back.
Both the state and national competitions were "good practice" for Cannistra, who now devotes much of her time to advocating for others with disabilities.
A big part of that is education, she says. As a public speaker, she frequently tells her audience not to feel sorry for people with disabilities but to show compassion for them as equals.
There's a big difference between the two, Cannistra says.
Right now, she's putting the finishing touches on a new story, which she hopes to submit to "Chicken Soup for the Soul" publishers before the Dec. 31 deadline.
It's called "They Took My Picture," and it's based on her experience as the 1974 poster child for United Cerebral Palsy.
The plan was to photograph Cannistra, then 6 years old, wearing her "hideous" leg braces and propping herself up with crutches.
When her doctor informed the family that she no longer needed the braces, United Cerebral Palsy insisted on making her wear them anyway, at least for the photo shoot.
Donation cans plastered with the "pathetic" image appeared all over town, Cannistra recalls, urging people to give money out of an "I wouldn't want my life to be like that" mindset.
The childhood memory is coupled in the story with another time Cannistra had her picture taken — just after receiving The Bouquet Award at the Miss Wheelchair America pageant.
Judges created the award especially for her, a first in the pageant's 35-year history, because she had "the uncanny ability to leave the judges with a little more joy than they had before I entered the room," Cannistra says.
Stunned by the honor, Cannistra took a few moments to regain her composure, after which a photographer snapped a picture of her — a sharp contrast, she says, to that sad portrait of the little girl in leg braces.
"There was a whole difference between taking my picture as a poster child and taking my picture as part of the Miss Wheelchair America pageant. One was really empowering, and one was evoking pity," she says. "So, that's what the latest story's about."
For more of Lorraine Cannistra's writing, visit her blog at healthonwheels.wordpress.com.