Sunday, December 21, 2014
Megan Roelofs' personal mantra is, "Life keeps getting better and better."
And for the Lawrence occupational therapist and jewelry artist, it seems to be a self-fulfilling prophecy. Her handmade gemstone necklace line was picked up by Urban Outfitters this year.
Her unique wearable art features leathers intricately woven around gemstones, shells and other natural elements. The line, under her business name, "Feather Spring Arts," was discovered by an Urban Outfitters buyer this summer. Since then, Roelofs has had a steady demand for orders from the national apparel store.
Her work had previously only been available at Nomad's, 725 Massachusetts St., OmTree Shala, 1405 Massachusetts St., and at art fairs like that of Ladies of Lawrence Artwork, or LOLA.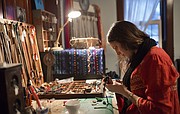 For Roelofs, it was a bit of a transition from selling solely locally. On her first order, she was asked to make 10 of each piece in her collection. Additionally, she said, Urban Outfitters had specific requirements of where and what kinds of labels needed to be placed on her work.
"It all has to go out together — they're all your designs, but you need to make 10 of each," Roelofs said. "You also have to put 'Made in the U.S.A.' in English and in French on the tags."
While balancing the demand with a full-time job as an occupational therapist with Lawrence Therapy Services seems challenging, Roelofs said she doesn't see much division between what she does at work and what she does in art.
"It's just all connected; I love meaningful things," Roelofs explained. "In occupational therapy, I find the things in life that are meaningful for people and use them to motivate (them) and make their lives better. It's the same with gemstones, they're meaningful."
Roelofs strives to find meaning in all things, she said, which is why she has been drawn to gemstones since she was a child. She said they serve as personal reminders of positivity, strength, serenity and nostalgia.
"A lot of people will buy turquoise because their mother loved turquoise," Roelofs said. "Amythyst is another favorite, and it's also a birthstone."
Another one of the more popular gemstones she uses in her work, angel aura quartz, is often used in meditation and is associated with light and tranquility. Roelofs said in the metaphysical world, the clear quartz crystals are "the supreme gift of Mother Earth." She uses this quartz in a "traveler" necklace, a sewn pouch containing the stone.
"It's supposed to serve as a reminder that we carry our own light every day," Roelofs said.
Still, she realizes that some of her customers might pick up her glimmering, earthy pieces just because of their appearances, and that's OK with her, too.
"I'm sure some people probably just like it because it's pretty," Roelofs said.
Metaphysiology aside, Roelofs said the true "magic" of the stones is what we make of the reminders ourselves.
"We make the meaning, but by putting positivity into our lives, life gets better than ever," Roelofs said. "The gemstones are a little reminder."
Her work is available in stores at Nomad's and OmTree Shala, as well as online at Urban Outfitters at http://www.urbanoutfitters.com/urban/catalog/productdetail.jsp?id=31987290#/ and her business website at www.featherspringarts.com.