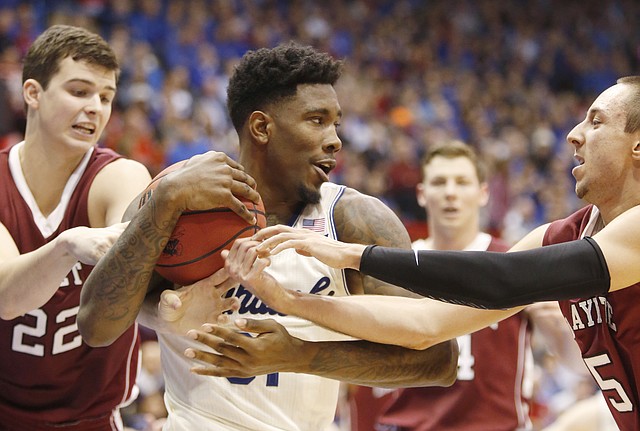 Sunday, December 21, 2014
Today in Lawrence
is an early-morning digest of essential and not-so-essential info to start your day in Lawrence and Douglas County.
Click here
for past installments.
Holiday showers
There will be light rain early in the day today that will morph into cloudy skies and occasional showers in the afternoon. The high will be 47 degrees, and the overnight low will be 34, with skies clearing somewhat. Winds will be from the southwest at 10 to 20 mph.
Close-knit gathering
First timer knitter? Seasoned pro at crocheting? Any and all are welcome to come to Ripping Yarns at the Lawrence Public Library. Lead by local expert Camille, there will be a pro on hand to help participants get started with both yarn crafts. Ripping Yarns begins at 7 p.m. and wraps up about 8:30 p.m. at the library, 707 Vermont St.
Big screen 'Hawks
Come watch your KU Jayhawks take on Temple on the big screen at Liberty Hall! Free to enter. Game starts at 6 p.m.; doors will open 30 minutes before tipoff. Patrons must be 21 with ID to enter and the bar will be open (cash only). Be early to get the best seats! Liberty Hall is the second best place to watch KU basketball in Lawrence behind Allen Fieldhouse! Liberty Hall is at 644 Massachusetts St.
Yesterday's most-read
More Dec. 22 events
Adornment Holiday Art Show and Sale, 1-5 p.m., Van Go, 715 New Jersey St.
Lawrence Board of Education meeting, 7 p.m., school district headquarters, 110 McDonald Drive.
Eudora City Commission meeting, 7 p.m., Eudora City Hall, 4 E. Seventh St.
The Nutcracker, 7:30 p.m., Muriel Kauffman Theatre, Kauffman Center, 1601 Broadway, Kansas City, Mo.