Wednesday, December 24, 2014
Hey, remember that jar of molasses that you bought on a whim ages ago? Bet it's still sitting in your cupboard, isn't it?
Well, break it out, because I'm using the month of December to indulge my love of gingerbread.
Ginger-Cherry Bites with Meringue
For the cookies
3 cups flour
2 teaspoons baking powder
1/4 teaspoon salt
1 tablespoon ground ginger
1 1/2 teaspoons ground cinnamon
1/4 teaspoon ground cloves
1/3 cup butter
3/4 cup packed brown sugar
3 egg yolks
1/2 cup molasses
1 tablespoon vanilla
For the topping
1-2 jars maraschino cherries
3 egg whites
6 tablespoons sugar
1/8 teaspoon salt
Directions
Cut the butter into your mixer bowl and let it soften to room temperature. Toss in the egg yolks and cream them together. Add the molasses and vanilla and blend it all together until it's nice and smooth.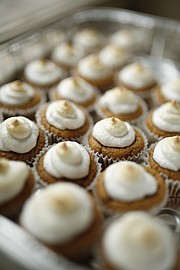 In a smallish mixing bowl, mix the flour, baking powder, 1/4 teaspoon of salt, ginger, cinnamon and cloves.
With your mixer running at low speed, start adding the dry ingredients, about half a cup or so at a time. Word of warning: do not stand with your face directly over the mixer as you add the flour. Breathing in powdered ginger makes your lungs stand up and take notice. They also threaten to go on strike.
Once all of the flour mixture has been incorporated into the butter mishmash, wad it into a ball and wrap it in plastic wrap. Shove it into the fridge for a few hours or overnight. This is an important step; gingerbread dough sticks like glue, and the resting time will help reduce that particular little irritation.
Once you're ready to bake, crank up your oven to 375 F. Drain the maraschino cherries and leave them to roll around on a paper towel for a bit. Line the cavities of a 24-count mini muffin pan with paper liners. Trust me on this. Remember the sticking issue? Paper cups keep you from having to chisel the gingerbread out of the pan, and they keep your spouse from having to buy you a new pan when you hurl the gingerbread-encrusted old one through a window.
Pinch off chunks of dough and roll them into (more or less) 1-inch balls. Drop one into each paper cup and flatten them slightly. Bake for 10 minutes. When you take them out of the oven, poke each one with a finger to make a dent in the top. Let them cool for a few minutes in the pan and shift them to a cookie sheet.
Heat the egg whites, salt and 6 tablespoons of sugar until warm to the touch, then beat the mixture on high speed until stiff and glossy.
Place a maraschino cherry into each gingerbread dent. Pipe a swirl of meringue on top of each cookie, being sure to cover the entire cherry. Brown them slightly in the oven, cool,and serve. You can store leftovers in an airtight container, but don't count on having any.
Enjoy!