Wednesday, December 24, 2014
Whether you're hosting a few friends or plan to stay holed up with your family, here are six activities to help you ring in the new year.
Take a trip around the world
Most kiddos under a certain age won't be able to wait up for midnight to roll around, but that doesn't mean they celebrate the New Year. Instead, use the holiday as an educational experience, suggests Amy Gottschamer, owner and executive director of Googols of Learning Child Development Center in Lawrence.
As the rest of the world rings in 2015 at different hours of the day, help teach your kids about new cultures and customs first-hand.
Try setting the clock to align with a different country every hour or two, and let the fun begin. That way, you can still do the countdown and build up the excitement without encouraging sleep-deprived meltdowns, Gottschamer says.
Smash a pomegranate open at 4 p.m., when the clock strikes midnight in Greece. It is believed that the number of seeds scattered is proportional to the amount of good luck the family will receive in the new year.
At 5 p.m., celebrate with Spain by eating 12 grapes within the first minute of the new year.
In Brazil, where most regions of the country will enter 2015 at 8 p.m., it's traditional to throw flowers into the ocean for good luck in the new year. You can recreate this at home with a blue tablecloth, Gottschamer says.
Host a pajama party
Make sure the kids are in their PJs at the start of the evening to make the transition to bedtime a little easier, says Marie Treichel, provider services manager at Child Care Aware of Eastern Kansas.
The laid-back dress code will feel special and "part of the fun" for kids, she says.
Once you're comfy, try building a fort in the living room, suggests Jennifer Wagner, curriculum director at Hilltop Child Development Center.
"The kiddos might not stay up until midnight, but dozing off in a cozy, made-from-scratch fort will be a blast!" she writes in an email.
Get crafty
Younger children will most likely be in bed long before the Times Square Ball drops in New York City, so why not recreate the experience for them at home?
"Hang a paper tablecloth from the ceiling an fill it with balloons," Wagner recommends. "Just before bedtime, pull it down and celebrate the last bedtime of the year!"
For a fun (and slightly messier) take, try making your own "confetti drop" by filling a large balloon with confetti. Kids can use a hole puncher and colorful paper to create the confetti, Wagner says.
Reflect on the year
Get 2015 off to a positive start by creating a memory jar, Wagner suggests.
In the days leading up to the big celebration, family members can write down their favorite memories of 2014 and place them in a jar.
On New Year's Eve, open up the jar and share the stories with each other.
Make a snack
If you're planning on entertaining at home, convenience is key.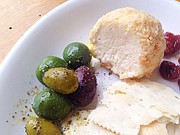 Try dishes that can be made ahead of time and served at room temperature. That way, you're free to enjoy the party without being "tied to the kitchen," says Raven Narramore, who runs Hearthkeeper Food Services and teaches cooking classes at The Merc.
She's a big fan of the cheese ball, as is Rick Martin, executive chef and owner of Limestone Pizza Kitchen and Bar.
"They make a really fun appetizer at the center of the table," Martin says of famously un-hip dish. "It's kind of a lost art, but they're really, really delicious."
Here, the two culinary whizzes share a few sure-fire crowd-pleasers for New Year's Eve:
Rick Martin's cheese ball
1 cup roasted, salted Marcona almonds
8 ounces Gruyere, grated
8 ounces white cheddar, grated
8 ounces cream cheese
4 fluid ounces saison or farmhouse ale
1 teaspoons sea salt
2 teaspoons onion powder
Either white cheddar or Gruyere could be substituted with just about any cheese on hand. Most any nut could be subbed for the almonds.
Place cheeses, beer and seasonings in a food processor. Blend until smooth and creamy. Chill. Blend almonds in food processor to a coarse crumble. Portion chilled cheese blend into a large ball, two smaller balls or many single-portion balls. Roll the cheese ball in chopped almonds until evenly coated. Chill and serve with bread, olives and crackers.
Raven Narramore's Goat Cheese Date Ball
8 ounces goat cheese, room temperature
4 to 6 ounces pitted dates
1 to 2 tablespoons extra virgin olive oil (optional)
1/2 cup toasted, chopped pecans
Combine goat cheese and dates in a food processor bowl and pulse until well-combined. Add oil bit by bit to ensure smooth blending. Empty cheese mix on to plastic wrap, shape into a disk and refrigerate 4 hours or overnight. When cool and firm, shape mixture into a ball within the plastic wrap. Place chopped pecans on a plate and roll unwrapped cheese ball in the nuts before serving.
Persian Lamb Meatballs
1 pound ground lamb
1 small onion, finely chopped
2 teaspoons cumin
1 teaspoon ground coriander
1/2 to 1 teaspoon freshly ground black pepper
1/2 teaspoon salt
2 tablespoons golden raisins (optional)
2 teaspoons oil for frying
Combine all ingredients except oil in food processor and pulse till well-combined. Roll into 1-inch balls. Heat 1 tablespoon oil in heavy-bottomed pan over medium heat. Add half the balls to the pan, turning to cook evenly until brown on all sides for 5 to 8 minutes. Repeat with the remaining balls. Serve immediately.
Elderberry Ginger Fizz Cocktail
1/2 ounce elderberry syrup
1 tablespoon ginger syrup
2 ounces gin
4 ounces club soda
Combine syrups, gin and ice in a shaker and shake for 10 seconds. Pour entire contents into glass and top with club soda. Makes a great "mocktail" for kids, and has the health benefits of elderberry and ginger to boot.
Watch a flick
In the mood to veg out on New Year's instead of party? Jon Fitzgerald, a projectionist and video clerk at Liberty Hall, recommends New Year's-themed flicks "Last Night" (1998), "200 Cigarettes" (1999) and "The Apartment" (1960) for your holiday viewing. (None are exactly kid-friendly, so screen with care.)
Or, binge-watch to your heart's content with TV. The Syfy channel will again be showing its annual "Twilight Zone" marathon spread across New Year's Eve and New Year's Day. The classic series may be too creepy for younger kids, but children 10 and up (according to Common Sense Media) are old enough to understand its still-relevant morality tales.
Note: If hitting the town or simply a quiet evening without the kids sounds festive, you're in luck. Try calling Child Care Aware of Eastern Kansas — their referral line (877-678-2548) provides parents with information on available services in the Lawrence area.