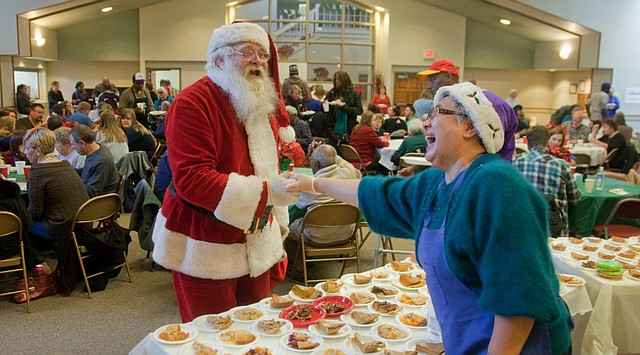 Wednesday, December 24, 2014
Today in Lawrence
is an early-morning digest of essential and not-so-essential info to start your day in Lawrence and Douglas County.
Click here
for past installments.
Balmy Christmas
It'll be cloudy early with partial sunshine later in the day today. Temperatures will hold steady in the 30s, and the high will be about 36 degrees. Low will be about 29. On Thursday, expect temperatures to be in the 40s with the afternoon high topping out about 50 degrees. Thursday night's low will be about 38.
Last-minute shopping
Many retailers are open today for those wanting to finish up their last-minute shopping. On Christmas day, most retailers are closed, as are the city and county offices, and meters are free downtown.
Community dinner
Join the community for some holiday cheer. The First United Methodist Church will offer its annual Community Christmas Dinner from 11 a.m. to 2 p.m. Thursday at the church, 946 Vermont St.
Have a wonderful holiday!
Yesterday's most-read
Dec. 24 events
The Nutcracker, 1 p.m., Muriel Kauffman Theatre, Kauffman Center, 1601 Broadway, Kansas City, Mo.
Adornment Art Show and Sale, 1-5 p.m., Van Go, 715 New Jersey St.
Dec. 25 events
City and County offices closed in observance of Christmas holiday.