Thursday, December 25, 2014
Even the most tofu-phobic might appreciate this traditional Japanese agedashi tofu dish from Wa. After all, everything is better fried, as they say.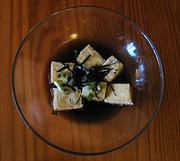 Six bite-sized cubes of firm tofu are coated in panko and lightly fried, then served up in a pool of savory, soy-based broth. Slivers of nori and green onion make it look pretty.
Where to get it: Wa Japanese Restaurant, 740 Massachusetts St.
What you'll pay: $6
Try it with: It's a fairly delicate appetizer, so you might want to order an entree if you want to fill your belly. Might we suggest something with lots of vegetables for a little crunch?
Also on the menu: Sushi of all kinds, plus a number of Japanese staples from sashimi to bento to noodle soups to teriyaki dishes.

— Off The Beaten Plate highlights some of the more exotic, oddly named or inventively concocted dishes from local menus. Know of an offbeat item we should check out? Email reporter Joanna Hlavacek at jhlavacek@ljworld.com. Follow her at Twitter.com/hlavacekjoanna.