Thursday, December 25, 2014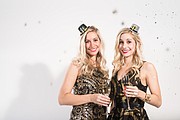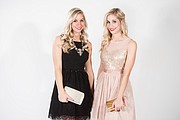 We searched high and low and found some great options for New Year's Eve looks.
One of my favorite things to wear this time of the year is something sparkly and a little out there, because — let's be honest — when else do you get to dress up like this? If you're shopping locally, Francesca's, 742 Massachusetts St., has amazing dress and jewelry options for New Year's Eve if you're looking to make a statement.
Emily sported a feminine dress in a light-pink hue. The dress has great detail with tulle and netting that makes it unique. This would be the perfect dress to wear New Year's Eve, and could even be worn throughout the year to showers, luncheons or weddings.
I opted for a simple little black dress with lace detail and an embellished belt that ties in the back. Like Emily's dress, it's perfect for New Year's Eve and can also be worn throughout the year. I love the style of this little black dress, and the neckline allows me to wear a chunky statement necklace.
We are always looking for sequins, glitter and statement accessories to go alongside our dresses, and I love shiny and sparkly jewelry this time of year. We believe New Year's is the time to go big, so don't skimp on the jewelry because you want it to really pop!
When picking out another dress option, we both chose dresses with gold and black sequins. We love the styles of these two dresses because they are unique designs that really stand out.
Emily's dress has a black belt and deep V-neck, while mine is simple yet has a distinctive design with all of the sequins. Look for a dress this time of year that really shows your style.

Try something out of your comfort zone — you won't regret it!
— Emily and Elizabeth Kennedy are twin sisters and fashion bloggers who share a blog called Fashion Column Twins. Elizabeth wrote this column. They can be reached at fashioncolumnblog@gmail.com.