Thursday, December 25, 2014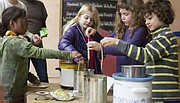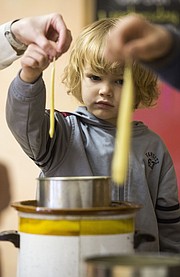 Although electricity has made light easily accessible year-round, the soft glow of candlelight is something that many continue to seek during the short days of winter.

"Winter is a good time of year for candles," said Richard Bean, owner of Blossom Tree Bee Ranch in Baldwin City. "As our days get shorter and we have more need for light at certain times of the day, candles are something that gives us this light."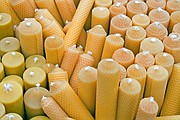 Bean makes and sells candles made from beeswax — a fatty substance that bees secrete as they construct their honeycombs. While most people turn to the widely available paraffin- and soy-based candles for their candle needs, beeswax candles — which are commonly used in Roman Catholic and Orthodox churches — come with a number of unique and desirable characteristics that make them the preferred candle for some.
"They are the best," Bean said. "Beeswax candles burn longer than any other candle. They have a very pleasant odor, and they give off a lot of light."
Candles made with 100 percent beeswax are usually a light-yellow color and give off a natural honey scent that is typically tolerable to people who are sensitive to synthetic scents. In addition to burning more slowly than candles made with other materials, beeswax candles drip less and produce very little smoke or soot.
Some beeswax fans also claim that the candles work as natural air purifiers, and anecdotes of asthma and allergy sufferers who have found relief by burning beeswax candles in their home are not uncommon. The theory behind this belief is that beeswax candles release negative ions when they burn. Because pollen, dust, dirt and other pollutants in the air all carry a positive charge, the negative ions released from burning beeswax negate the positive charge of air contaminants, and the neutralized ions are sucked back into the burning candle or fall to the ground.
Labeling laws do allow candles that are made with a minimum 51 percent beeswax to be sold as beeswax candles, so those wanting pure beeswax should look for labels that say 100 percent beeswax.
Bob Werts, owner of Waxman Candles, 609 Massachusetts St., makes and sells beeswax candles using beeswax sourced from beekeepers in Kansas and Missouri. Werts said that the soft texture and sweet smell of beeswax make it a lovely material to work with. Because beeswax is more expensive than other raw candle-making materials, beeswax candles do carry a higher price tag than other candles. Waxman does not sell a particularly high volume of beeswax candles, said Werts, but the product does have a number of loyal fans.
"People who want beeswax are not worried about the price," Werts said. "They like the color and they like the smell. The bees work hard to make that wax, and people appreciate that it is a totally natural product. It's a feel-good thing."