Thursday, December 25, 2014
If you're still unsure where you'll be ringing in 2015, have no fear — Lawrence has plenty to offer for both night owls and early risers alike. Here are just a few options to get the party started.
Pachamamas
Start your evening on a classy note with a special New Year's Eve menu from Pachamamas, 800 New Hampshire St.

Nibble on goodies like the benne oyster pan roast, then progress to a Japanese sweet potato bisque, followed by pecan wood-smoked gulf shrimp and your choice of duck, salmon or beef strip loin for the main course. Top it all off with a caramelized banana cream "pie" (the reason for quotation marks remains unclear).
The cost is $75 per person. Call 841-0990 for reservations.
Genovese
Chefs at Genovese (941 Massachusetts St.) are still developing this year's three-course menu, but here's what's for certain: The meal will cost $39.50 per person, plus $12 if you go for the Italian wine pairing or $8 for prosecco for two.
To make reservations, call 842-0300.
The Eldridge
The Eldridge's TEN restaurant is set to serve a few specialty items on New Year's Eve, including crab legs, pork belly and an "Oscar style" filet with bacon-wrapped shrimp.
Prices will range from $20 to $40.
On that night, the kitchen will extend its hours to 11 p.m., while the Jayhawker Bar will remain open until 2 a.m.
Reservations are recommended but not required. Call 749-5011.

Mouth's New Year's Eve Extravaganza
If spending the last night of 2014 in a "psychedelic wonderland" complete with live music and raffle prizes sounds like a good time, head over to Fatso's, 1016 Massachusetts St., for Mouth's New Year's Eve Extravaganza.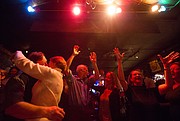 The musical lineup includes Electric Theory at 9 p.m., 3 Son Green (a self-described "RockJamJazzFunk" outfit from Kansas City) at 10:30 p.m., and Mouth (a Kansas City-based, "cyberfunk" band) as the closer from 12:05 to 1:30 a.m.
There will be a "classy cocktail hour" and photo booth from 7 to 9 p.m., and a free champagne toast as balloons drop at midnight.
Raffle tickets can be earned by completing a series of tasks issued by Fatso's for a chance to win a PlayStation 4, among other prizes.
Tickets cost $20, and will be available on a first-come, first-served basis.
The Crumpletons' New Year's Show and Happy New Year With the Phantasticks at Jazzhaus
Whether you're a night owl or plan on hitting the hay before midnight on New Year's Eve, the Jazzhaus, 926 Massachusetts St., is offering both an early and a late show that night.
From 7 to 9:30 p.m., The Crumpletons will perform their signature mix of '60s classics and psychedelic melodies. Cover charge is $5.
The Phantasticks, a funk/soul/R&B; group will take the stage at 10 p.m. Cover charge is $10.
New Year's Eve with Split Lip Rayfield, Dewayn Brothers and Loaded Goat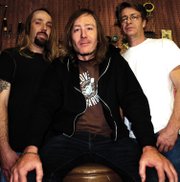 Wichita-bred bluegrass trio Split Lip Rayfield returns to the Bottleneck, 737 New Hampshire St., yet again this New Year's Eve.
Bluegrass rockers Loaded Goat and the Dewayn Brothers will also join the party.
Tickets cost $26 to $28, and can be purchased online for this 18-and-over show. Doors open at 7 p.m., and the show starts at 8 p.m.
New Year's Mingle at the Eighth Street Taproom
Team Bear Club is back at the Taproom, 801 New Hampshire St., bringing you the slickest groove-worthy beats this New Year's Eve from 10 p.m. to 2 a.m.
Dance the night away to mixes by Tom Richman, P. Morris and Maal A Goomba, all for a cover charge of $5.
Hammerlord, Psychic Heat and DJ Cruz at the Replay Lounge
Stay toasty indoors or enjoy the crisp night air at the Replay Lounge this New Year's Eve, where celebrations will begin at 10 p.m.
Metal rockers Hammerlord and "ADHD Rock" band Psychic Heat will play inside the venue, 946 Massachusetts St. DJ Cruz, hailing from Switzerland, will spin out on the patio.
Cover charge is yet to be determined, though you can probably bet it's between $3 and $5.