Thursday, December 25, 2014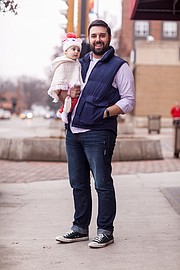 Name: Mike and Blair Blakeman
Age: 30
Hometown: Kansas City
Time in Lawrence: About eight years
Relationship status: Married with a child
Occupation: Software engineer
Dream job: I'm actually doing what I love.
What were you doing when scouted? (My wife) tricked me into going to see Santa so we can also look at shoes, hats and…
Describe your style: I don't even know. You can't even describe this. It's just thrown together. It's comfortable!
Describe Blair's style: It's power clashing.
Fashion trends you love: I like straight-cut jeans with cuffs at the bottom. I'd like to get some real(ly) nice boots and knit caps called toboggans.
Fashion trends you hate: Running shorts when you're clearly not working out.
Fashion influences: It's kinda what I see around Lawrence. I work in KC so I get to be the one that gets to look more "hipster-ish" I even though I'm not at all. But just by the fact of being from Lawrence and looking kind of "Lawrencey" in Olathe, they call me a hipster.
What would you like to see more or less of in Lawrence? Naturally, I'd like to see more championships. (My wife would like to see) less leggings as pants.
Tattoos or piercings: I just have one (basic) tattoo from when I was 18.
Whom do people say you look like? (My wife says) that there's a guy on the billboard on the I-70 that is my doppelgänger — I think it's a Chiefs billboard.
What type of music do you like? A lot of stuff, but recently since it's Christmas season I've been listening to a lot of Sufjan (Stevens).
Tell us a secret: We did not sleep last night. Our daughter kept us up.