Thursday, December 25, 2014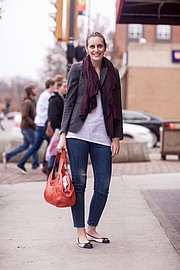 Name: Stacey Blakeman
Age: 31
Hometown: Overland Park
Time in Lawrence: Eight years
Relationship status: Married
Occupation: Attorney
Dream job: Maybe a book editor
What were you doing when scouted? We were visiting Santa (at Weaver's).
Describe your style: Well, now it's mom chic!
Fashion trends you love: I like the oversized knits, leather boots and bright bags.
Fashion trends you hate: Leggings as pants
Fashion influences: I read a lot of fashion blogs.
What would you like to see more or less of in Lawrence? We love this town. Maybe more vacancies around town and downtown being leased and made more alive. Less texting and driving. We have a baby on board!
Tattoos of piercings: None
Whom do people say you look like? I look like my sister.
What type of music do you like? I've been listening to the new Alt-J CD and Hozier.
Tell us a secret: Blair (our daughter) is not as quiet as she looks.