Saturday, December 27, 2014
It happened just the other week. Crews completed work on the heating system of SeedCo Studios, 720 E. Ninth St., the day before Lawrence experienced its first significant snowfall this season.
It had been a long time coming for the artists of SeedCo, who moved into the newly rebuilt industrial building in September after zoning issues forced them to relocate from their original space roughly a block away at 826 Pennsylvania St. in the Warehouse Arts District.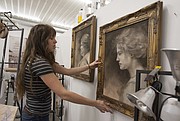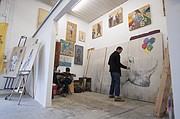 The new SeedCo, at roughly half the size of its predecessor, is easier to maintain and offers a more professional space for residents, says SeedCo manager Jeremy Rockwell.
"A lot of people treat their studio as their own gallery. Everyone just feels so much more confident about inviting people and showing collectors the space," Rockwell says of the layout, which includes 19 artists' studios, a gallery and three areas for recording and rehearsing music.
And, he says, "Everyone just loves having nice, clean, white walls."
The warehouse on Pennsylvania Street had a decidedly grungier vibe, Rockwell says. Interior temperatures were difficult to regulate, dust seemed a perpetual presence and bats could often be seen flying around the ceiling, he recalls.
It wasn't glamorous by any means but it was home, says artist Jessica Rold, a two-year member of SeedCo who admits she was worried when she first heard about the move.
Ultimately, though, she trusted Rockwell and SeedCo director Jeromy Morris to find the perfect space.
"We can make a home wherever we go, but on some level, we do need a proper space," she says of her fellow artists. "It's not just finding a house for yourself ­— it's finding a house for a family of 30."
During three months of construction, she and other residents were allowed by the fire marshal to set up temporary studios on the main floor of the building, which originally housed an expansive gallery space.
The shakeup did "throw a rut" into the creative process, Rold says, but she and the others simply worked through those obstacles.
"I think that's one of the things that proves how solid SeedCo is," she says. "We were still making art and having a good time and laughing and finding all these positives that could come through this situation. It felt like a family."
That family is expanding. In September, SeedCo hosted its first event at the new SeedCo Gallery inside 2016 Main in Kansas City, Mo.
SeedCo also curates a satellite gallery at Yantra, an office at 840 Massachusetts St. in Lawrence, which is open to the public during Final Fridays. A handful of SeedCo artists hosted a pop-up gallery there on a Saturday earlier this month.
"It's important to keep creating and promoting artists in Lawrence," Morris writes in an email, saying to expect more pop-up galleries and themed art shows in Kansas City. "I think our main goal is to have fun and be creative."